Japanese people love ika (squid). In fact, most of the world's catch of squid is consumed by Japanese consumers. Squid is pleasantly chewy, with a gooey texture and sweet flavor. It's great for sashimi, sushi, nimono (simmered dish) and yakimono (broiled dish). Squid tempura is as widely popular as shrimp tempura. Ika-no-kunsei (smoked squid) and noshi-ika (roasted squid) are indispensable accompaniments to beer.
Contents:
Squid Species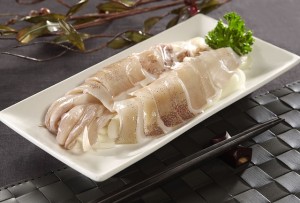 There are more than 500 squid species, and their habitats vary widely. Some species inhabit such peculiar places as the deep ocean and Antarctica. Some are small, rarely seen, or inedible. Squid species can be roughly divided into two types: Sepiida and Teuthida , or ones that have or don't have an internal shell. The Sepiida species has a soft, chalky shell in the back called a pen (cuttlebone). An example of this species is Mongou ika (common cuttlefish). The name Mongou ika used to refer only to European common cuttlefish found in the Atlantic Ocean, but now it's a collective name for all common cuttlefish found in foreign waters. The Teuthida species have an internal shell and are usually slender, free- swimming squid such as Yari ika (Loligo squid) and Surume ika (Japanese flying squid).
Squid can be easily digested!?
Because of its chewy texture, you may think that squid is hard to digest or heavy on the stomach. In actuality, squid is rich in high-quality proteins, and like other sea creatures it has an abundance of taurine, which helps improve kidney function. This is why squid is highly digestible.
The nutritional value of squid
Squid is rich in high-quality protein but low in fat and calories. It also has a high content of taurine, vitamin B2, vitamin E, niacin, and potassium as well as EPA and DHA, which are highly unsaturated fatty acids found only in marine foods.
Surume Ika (Japanese flying squid)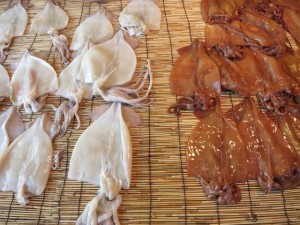 Surume ika is said to make up 80% of all squid consumed in Japan. It's found in an extensive area covering the surface and intermediate layers of the coastal waters of the Sea of Okhotsk, Sea of Japan, and the East China Sea. Females are larger than males. Surume ika live for one year after hatching and die after spawning. Ika Somen is surume ika cut into thin strips like somen noodles. Its entrails are a key ingredient for shiokara (fermented squid entrails). The flavor of surume ika is enhanced substantially by roasting or simmering.
Local California Smatt Squid
The local California small squid is a type of yari ika (Loligo squid). It's characterized by its thin body, about 3.5 inches in overall length, a small head and short arms/tentacles. It can be found in the area extending from the southeastern part of Alaska to the southernmost part of Baja California (Mexico). Its flesh is slightly more reddish than that of the surume ika and has a firm, elastic consistency. It's great for stir frying, ichiya-boshi (overnightdried squid), nitsuke (simmered squid), and deep frying.
How to choose delicious squid
To select a delicious squid, find one with a translucent milky-colored mantle, blackish transparent skin, and clear, protruding eyes. It should be firm, meaty, and have a roundish mantle with no sagging in the center, which indicates that the entrails are intact. The entrails can also be enjoyed as an ingredient in shiokara.
Japanese Squid Recipes
Yaki Ika Recipe (Broiled Squid)
Ingredients (Serves
2

)
2 whole squid

[Sauce]

2 tsp. sake (cooking sake)
3 Tbsp. soy sauce
Pinch of ichimi (Japanese red pepper flakes) or shichimi (Japanese seven-spice mixture)
A small amount of vegetable oil
---
Cooking Directions
Preheat yaki-ami (grilling rack).
Prepare the squid. Grab the part where the head is joined to the mantle, and pull the head out of the mantle. Wash the mantle and remove the cartilage. Cut the head off above the eyes, and remove the beak. Trim the arms and tentacles to align the ends. Using the dull side of the knife blade, scrape the suckers off and cut the arm/tentacle portion in half.
Make shallow incisions on the surface of the mantle.
Combine all the ingredients for the sauce.
Coat the yaki-ami lightly with vegetable oil. Place the mantle on the grill and quickly broil one side. Flip it over and quickly broil the other side.
Broil the arms/tentacles. Baste with the sauce and broil evenly until the savory aromas are released.
Slice the mantle into bite-sized rings and transfer to a serving plate. Sprinkle with the ichimi or shichimi spices (optional).
Curry-Flavored Squid Rings Recipe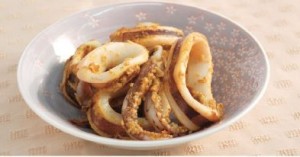 Ingredients (Serves 4)
2 whole squid
1.5 tsp. curry powder
2 Tbsp. flour
Pinch of salt
3 Tbsp. vegetable oil
---
Cooking Directions
Prepare the squid and wash well. Remove excess water and sprinkle with salt. Let stand.
In a bowl, combine the curry powder, flour, and salt. Dredge the squid in the flour mixture, turning to thoroughly coat it.
Cook in a frying pan until crispy.
Nitsuke (simmered dish) with Daikon and Squid Recipe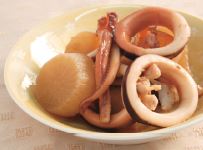 Ingredients (Serves 4)
2 whole squid
1/2 daikon (Japanese radish)
2-1/2 cups dashi soup stock
1.5 Tbsp. sugar
3 Tbsp. mirin (sweet cooking rice wine)
3 Tbsp. soy sauce
---
Cooking Directions
Prepare the squid and wash well. Cut the mantle into rings, and cut the arms/tentacles into blocks consisting of 2 or 3 arms/tentacles.
Cut the daikon into about 1 inch thick slices.
Add the sauce ingredients to the dashi soup stock and heat. Once it starts to boil, add the squid and simmer for 1 to 2 minutes. Remove the squid.
Add the daikon to the sauce. Cover with an otoshi-buta (a drop-lid) and simmer over medium heat.
Once the daikon becomes tender and the liquid is thickened, add the squid.
Tilt the pot to fully coat the squid with the sauce.
Stir-Fired Squid with Oyster Sauce and Mayonnaise Recipe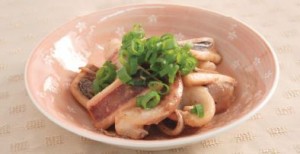 Ingredients (Serves 4)
2 whole squid
2 Tbsp. mayonnaise
2 Tbsp. oyster sauce
1 clove garlic and green onions (optional, to taste)
---
Cooking Directions
Prepare the squid and wash well. Cut into bite-sized pieces.
Stir fry the minced garlic in a small amount of vegetable oil (not included in the above list of ingredients) and mayonnaise until the aroma is released.
Add the squid and stir fry quickly. Once the squid has been cooked through, add the oyster sauce and continue to stir fry until all the squid pieces are coated with the oyster sauce.
Transfer to a serving plate. Top with chopped green onions (optional).
Japanese Squid Kimchi Udon Noodles Recipe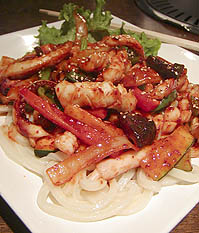 Ingredients (Serves 4)
1 lb. squid
1 bag of fresh udon noodles
2 shiitake mushrooms
2 strings green onion
1/4 onion
1/2 zucchini
1/8 red pepper
1 jalapeño
5~8 garlic cloves
2 Tbsp. chili powder
3 Tbsp. Korean red chili paste
2 Tbsp. soy sauce
1 Tbsp. bonito dashi soup stockv
1 Tbsp. sugar
2 Tbsp. mirin
1 Tbsp. vegetable oil
2 Tbsp. honey
Pepper to taste
1 Tbsp. sesame oil
1 tbsp. roasted sesame
---
Cooking Directions
Cut zucchini into rectangular strips, slice onion and red pepper thin, cut green onion, jalapeño, and shiitake mushroom into quarters.
Clean the squid, cut the bodies into bite-size pieces, and leave it in warm water.
Heat the vegetable oil in the frying pan, add half cut garlic cloves, and then add the onion and zucchini.
Add the seasonings; in the order of Korean chili paste, red chili powder, mirin, soy sauce, squid, sugar, bonito and dashi soup stock and cook for a few minutes.
Add honey, shiitake mushroom, green onion, jalapeño, red pepper. Cook for a few more minutes and add pepper and sesame oil for fragrance.
Boil the udon noodles, drain and serve on a plate.
Serve the squid and vegetables over the udon and sprinkle roasted sesame on top.
Tips
Use frozen squid or cleaned squid if you don't want to go through the whole cleaning process.
Recipe and photo by: Yellow Cow Korean B.B.Q.
Japanese Squid Sauted in Ishiru and Butter Recipe
Ingredients (Serves 1)
1 oz. Japanese common squid (cut into rings)
1/2 oz. Chinese cabbage, cut into bit-sized pieces
1/2 Japanese eggplant, sliced
0.2 oz. shungiku (edible chrysanthemum)
0.2 oz. enoki mushrooms
0.2 oz. carrot, julienned
0.2 oz. butter
Sauce:
2 Tbsp. ishiru
4 tsp. cooking sake (Japanese rice wine)
2 tsp. mirin (Japanese sweet cooking rice wine)
---
Cooking Directions
Slice all the vegetables. Place the vegetables and squid on seashells (or in a ceramic pan or pot).
Pour on the ishiru, and place the butter on top. Cook all the ingredients thoroughly.
Three major fish sauces made in Japan are shottsuru, from Akita Prefecture, ikanago-joyu, from Kagawa Prefecture, and ishiri (or ishiru), from Ishikawa Prefecture. lshiru is prepared by sprinkling unrinsed fish guts with plenry of coarse salt and placing them in a barrel to ferment (without adding any secondary ingredients such as koji (rice malt). to promote fermentation.
Fresh ingredients are prepared in early summer, fermented at high temperature and high humidiry during the peak summer season, and aged in slightly dry, cool air from autumn to winter. By winter, the fish in the barrel has dissolved and become a thick, soy-saucecolored liquid.
After sitting in the barrel for two to three years, the liQuid turns a dark color and its flavor becomes comestible.
Gochiso Magazine, Nijiya Market
Please follow and like us: