Maguro (Tuna) as you might expected, is the most popular fish for sashimi (thinly sliced raw fish) or nigiri-sushi (hand-rolled sushi with raw fish on top). Japan is the world's biggest consumer of tuna; large quantities of tasty tuna, both fresh (raw) and frozen, are shipped to Japan from all over the world.
Contents:
What is Maguro (Tuna)?
Surprisingly, the United States is ranked second in tuna consumption. Tuna caught in Micronesian waters are delivered to Hawaii; those caught in the Pacific Ocean to Los Angeles; those caught in the Gulf of Mexico to Miami; and those caught in the Atlantic Ocean (off Canada) to Boston and New York. Additionally, large quantities of tuna caught in the Indian Ocean, the Mediterranean Sea and off the coasts of Africa are transported to the U.S. by air.
The best thing about tuna in the U.S. is that the fish on the market is raw and very fresh. Similar to beef, the maturity period of, and therefore the best time to eat the meat of a giant tuna is within the first week from the day it is caught.
Now, let's talk about the types of tuna. The most expensive grade of tuna is the hon maguro (bluefin tuna). It is fish on first-class fish in all categories such as color, taste, and texture. Each fish contains akami (red flesh) and toro (fatty flesh). Due to its scarcity, toro is the highest priced section of the tuna, which also happens to be very fatty and tasty.
Bachi refers to the mebachi-maguro (big-eye tuna), which is similar to hon maguro in texture. It is also said to taste the best among all types of tuna, depending on the season.
The kihada (yellow-fin tuna) flesh is lighter pink in color and slightly firmer in texture than the hon maguro. It has a refreshing, tasty red flesh that isn't too soft, like the toro.
Types of Maguro(Tuna)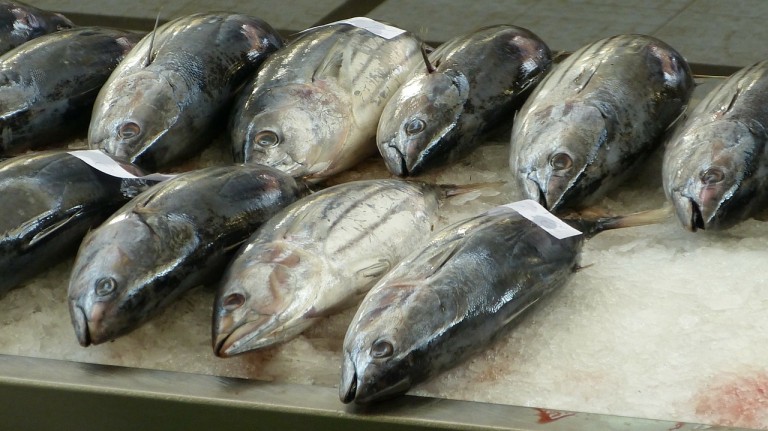 Black Tuna (Hon Maguro)
These are the king of the tunas. The largest, fattiest and finest ones are probably seen only at high end Japanese restaurants. Fishing grounds for these fish are the North Atlantic, Pacific and Indian Oceans and the Mediterranean Sea. Because of their size (over 880 lbs) and quality, some portions can cost a fortune. Undoubtedly it is a Japanese delicacy. But black tunas found at the world famous Tokyo Tsukiji Fish Market are often imported from the United States. That means the black tuna offered in the United States must be as good as the one offered at high end Japanese restaurants.
Speaking of price, the most expensive tuna is called "shibi" or "blue fin tuna" in English due to its blue fins. It is a 2 year old, 16″ to 39″ long juvenile tuna that is caught mostly near Japan. Its taste is often described as "melting".
Big Eye Tuna (Mebachi Maguro)
The name tells you how they look. They have big eyes, and are typically 78″ long and 330 lbs, they are considered a smaller version of black tuna. Its beautiful red flesh, pleasant texture and firmness make perfect sushi and sashimi. Even though it is more expensive and the taste of the fatty part, ("toro") of a big-eye tuna is not as appealing as that of the black tuna, its appearance surely wins us over. South Pacific countries and Ecuador are the main exporters to Japan.
Yellow Fin Tuna (Kihada Maguro)
"Yellow Fin Tuna" got its name because its fins turn golden yellow when it gets excited. This is the most distributed tuna in the States. Although it does not have a fatty "toro" part, it does have a wonderfully light and "unforgettable" taste. You can enjoy the taste of raw yellow-fin tuna in the States, which is not available in Japan, with a reasonable price thanks to the large volume caught in the vast fishing grounds of Hawaii, Miami, Gulf of Mexico, Pacific coast and off shore of Baja California.
What is Hon Maguro (Bluefin Tuna)?

When we think about sashimi or nigiri sushi, the first thing that comes to our mind is the maguro. There are many different terms for maguro, including toro, chutoro, nakaochi, negima, meji, shibi, tekka, tekkadon, zuke and negi-toro.
Japanese people love maguro, and it is essential to Japanese cooking. In fact, many people who aren't very fond of fish still consider maguro sushi to be an exception. Indeed, maguro has a particularly strong presence among the creatures of the sea.
Habits
Maguro inhabit ocean waters throughout the world. They usually cruise at speeds of approximately 12.5 mph, but with their streamlined bodies they can swim as fast as 100 mph.
To ensure their survival, maguro never stop swimming even when they rest or sleep. Since maguro must constantly take in fresh seawater through their mouths in order to supply oxygen to their gills, they must either keep swimming or die. Unlike goldfish, they don't gasp and gulp for air with their mouths open intermittently; instead, these powerful fish simply keep swimming.
Maguro swim vast distances across oceans in search of various foods, including horse mackerel, chub mackerel, flying fish, squid, etc. In addition to their massive appetite, they have amazing stamina. These fish can swim tens of thousands of kilometers—distances of global scale—and reach hundreds of kilograms in weight.
Varieties
There are many varieties of maguro, which can be categorized according to body shape, habit, usage and taste. The variety called hon maguro (bluefin tuna) or kuro maguro in Japanese has bluish tail fins, and in English it's referred to as the blue-fin tuna. This is the largest type of maguro, reaching as much as 1,100 pounds, and when caught, it can become the most expensive item on a sushi or sashimi restaurant menu.
Mebachi maguro is called "big-eye tuna" for its large eyes, but its size and color are similar to that of the hon maguro. Kihada maguro has yellow tail fins and is therefore called "yellow-fin tuna" in English. It grows to about 220 pounds and has translucent red flesh. This robust, fresh maguro is also popular, especially in the Kansai region.
Kajiki, which belongs to the marlin group, is also associated with maguro. Kajiki are classified into five types: kurokawa kajiki, sirokawa kajiki and mekajiki, which are giant marlins weighing 600 to 1,100 pounds; and aokawa kajiki and basho kajiki, which are relatively smaller in size. Another type, tonbo maguro, or bincho maguro, is called "albacore" in English. It weighs only about 22 pounds and has distinctively long fins. The flesh is soft-textured, but the farther north this fish travels the more fatty the flesh will be. All these related fish comprise one big maguro family.
Prices
The fish that are auctioned off at high prices and acquired by fancy sushi restaurants at the Tsukiji fish market are wild hon maguro (bluefin tuna). They're outrageously expensive but also supremely delicious, with a melt-in-the-mouth consistency. They are top-grade in taste, color, sheen, aroma, texture and price, so this type truly deserves to be called the king of all maguro.
A wild hon maguro captured off the coast of Ooma City in Aomori Prefecture weighed 507 pounds and was sold for the equivalent of $173,600, a world record for the highest-priced hon maguro. Today, many of the hon maguro caught all over the world are mostly exported to Japan as high-end product.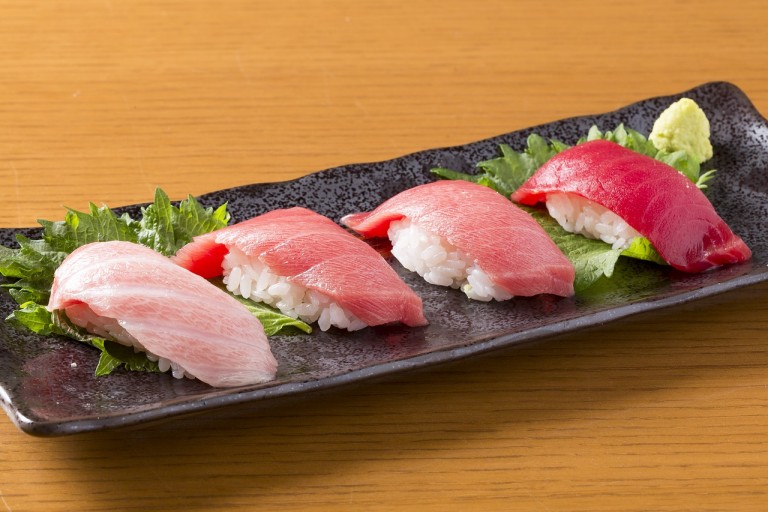 We know that Japanese people have enjoyed maguro sashimi for a very long time, but in recent years a sushi boom has taken place around the world. The word "maguro" is now commonly used to indicate a prime sushi item in many countries. The U.S. has seen a rapid increase in the number of people who enjoy eating sushi and sashimi, and has become the second-highest in the consumers of maguro.
The fisheries of wild hon maguro eaten in the U.S. are located in the North Atlantic Ocean. Giant maguro weighing 500 to 600 pounds are unloaded in Boston and Gloucester (a harbor town in Canada). The high quality of Boston's wild hon maguro, not to mention the high quality of maguro itself, is retained through a special fishing method; they use an electric harpoon to prevent an increase in the internal temperature of the fish caused by the heat dissipation from their organs. Throughout the entire process, from the landing of the fish to the chilling/packing to the air transport, the quality and freshness of Boston hon maguro is constantly maintained. The beautiful, bright-colored toro / chutoro, along with the quality akami (leaner parts), has earned a solid reputation. These hon maguro are always traded at high prices. The highest trade price on record is $159,000 for a single hon maguro. These fish are transported by air to Japan, New York and California as top-quality maguro.
Farming
Wild hon maguro (bluefin tuna) captured around the world are sent to Japan one after another due to their high trade prices in the country. However, this has encouraged excessive activity in fisheries. Nature conservation groups are concerned that hon maguro are in danger of extinction, and some insist that the fishing of hon maguro be banned.
Just when it appeared that hon maguro sashimi was about to become a thing of the past like whale meat, the farming of hon maguro, which had been long considered impossible, was brought to realization.
In maguro farming, young fish or hatchlings from incubated eggs are kept in an expansive sea cage 82 ft. in radius. The young fish swim around within the cage while being fed 2 pounds of sardines or mackerel each day. Within about two-and-a-half years they reach a weight of approximately 220 pounds. Compared to the wild hon maguro, the farm-bred hon maguro are smaller in size and have a softer textured flesh. However, farm breeding makes it possible to adjust the fat content of the toro and other parts. Additionally, farm-bred hon maguro have consistently good quality and fully satisfying flavor.
Nutritional Value
Wild hon maguro (bluefin tuna) is very high in nutritional value. It contains high-quality protein, omega-3, highly unsaturated fatty acid, iron and abundant minerals such as potassium. The leaner part is rich in protein and is popular as a low-fat, low-calorie health food or diet food. Moreover, hon maguro is full of nutrients that are essential for growing children, including vitamin B6 and pantothenic acid.
Boston Maguro
The fishing season for wild hon maguro (blue fin) is from July to November. "Boston hon maguro" has a large body and high-quality meat that contains a generous amount of fat. Its buttery-textured flesh is extremely delicious. Even when the cut looks sinewy, it is still tender and has a delightful flavor.
Usually, the maguro seen in fish markets are kihada maguro from Hawaii, mebachi maguro from Miami or shibi maguro from California. They might even be imports from Asia, South America or Mediterranean countries. During the off-season, farm-bred or frozen maguro are put on the market.
Given the fact that Boston hon maguro are wild fish, harvest volumes are greatly affected by weather and fishing conditions, so it's difficult to maintain a steady supply. During the season, the Nijiya Market directly contacts local suppliers of Boston maguro and does everything possible to purchase high-quality maguro to offer to their customers.
Cooking
The best way to eat maguro is raw or, in other words, sashimi. The essence of this Japanese cuisine is to enjoy truly natural flavors without adding or altering anything. So, sashimi is the ultimate embodiment of that principle. Moreover, raw maguro goes very well with rice, soy sauce and wasabi, which naturally makes sushi a perfect dish for serving maguro. Delicious nigiri sushi can be made out of akami (leaner meat), chutoro (moderately fatty meat) and toro (fatty meat).
The sushi roll made with akami is called tekka. The sushi roll using the fatty part of Boston maguro, which is called toro-maki, is exquisite. It simply beats any other type of sushi roll.
When raw maguro is marinated in soy sauce, which is called zuke, it turns into another flavorful maguro dish. Zuke-don (a bowl of rice with zuke on top) is quite savory, and so is aburi, which is a nigiri sushi with fatty toro lightly seared. Numerous other maguro dishes can also be found, such as Italian-style carpaccio, teriyaki and tuna steak.
When grilling maguro, it must be kept rare. People say that one can't go wrong with quality ingredients, and that's true with Boston maguro. It's always delicious, no matter how you cook it.
The Deference Between Akami, Otor and Chutoro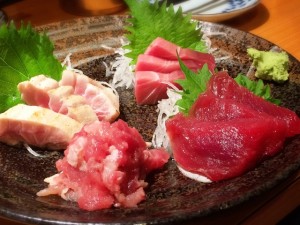 Maguro has two main parts called akami and toro. Akami literally means red meat and it is the leaner part of the maguro, which means it has less fat. AKami is taken mostly from the back part of the fish and used in sushi, sashimi, canned tuna, and can be marinated or grilled as well. Toro is the fatty part of the maguro, and it's the prime meat that comes from the belly of the fish. With toro, you also have the otoro and the chutoro. "O" means big and "chu" means medium in Japanese. As it says, otoro has a marbled texture and is the fattiest part. This has a sweeter taste and melts in your mouth. Because otoro is such a limited part of the fish, it is the most expensive. Chutoro is in the middle of akami and otoro, and is taken which in between the back and the belly of the fish. Chutoro has the best of the both akami and otoro worlds, just the right amount of fattiness and sweetness. Akami is used not only for sushi or sashimi, but also marinated and grilled. On the other hand, toro is mostly eaten raw as a sashimi or sushi, and can also be lightly seared. Nutrition wise, akami has less calories and has more protein than toro. The fatty toro has more omega 3 fats and Vitamin A, D and E then the akami meat.
A fun fact about toro:
300 years ago during the Edo period when sushi became the fast food of Japan people would toss away toro because there were no technology to preserve fish and toro was too oily and went back quickly. The Edo style of sushi was to marinate the akami with soy sauce. You are can eat marinated akami, which is called zuke, in an Edo-mae, "Edo style," sushi restaurants even today.
How to cook Maguro?
Maguro Sashimi Zuke Don (Marinated tuna bowl) Recipe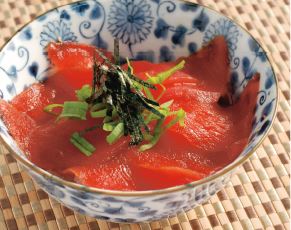 Ingredients (Serves
2

)
2 servings of cooked rice, still steaming
2 servings of tuna (sashimi grade, red flesh)
Marinade
3 Tbsp. soy sauce
2 Tbsp. sake (cooking sake)
1 Tbsp. mirin (Japanese sweet cooking rice wine)
Wasabi (to taste)
Toppings as desired
Nori (dried seaweed), white sesame, and chopped green onion (each to taste)
---
Cooking Directions
Put all the seasonings into a pot and bring to a boil on medium heat. Allow to cool.
Slice the tuna into sashimi-size pieces and marinate for 10 to 15 minutes in the seasoned soy sauce. Scoop steaming rice into a bowl and place the marinated tuna and nori on top. Sprinkle white sesame and chopped green onion as desired.
Simple Tuna Tataki (Seared Tuna) Recipe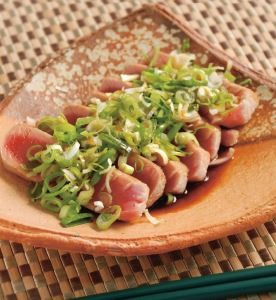 Ingredients (Serves 4)
1 fillet of tuna (sashimi grade)
Chopped green onion (to taste)
1 Tbsp. sesame oil
Sauce
3 Tbsp. soy sauce
1 Tbsp. mirin (Japanese sweet cooking rice wine)
Wasabi (to taste)
---
Cooking Directions
Put soy sauce and mirin into a heat-resistant bowl, and heat in a microwave for approx. 30 seconds. Let the mixture cool, and then add and dissolve wasabi (to taste).
Heat a frying pan and add the sesame oil. When the oil is hot, add the tuna and sear each side. When each side turns brown, immediately take the fish out of the pan and slice it into bite-size pieces.
Place the sliced tuna on a serving plate, sprinkle with a generous amount of chopped green onion, and pour the sauce on.
Poke Don (Poke bowl) Recipe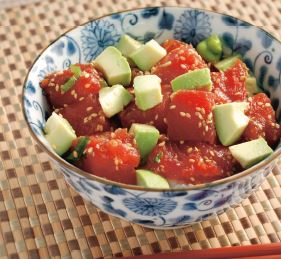 Ingredients (Serves 4)
10 oz. tuna (sashimi grade, red flesh)
Cooked rice (as appropriate)
2 avocados
Chopped green onion (to taste)
1 Tbsp. fresh lemon juice
Wasabi (grated green horse radish) (to taste)
Sauce A
1-1/2 Tbsp. soy sauce
1/2 tsp. salt
1/2 Tbsp. chili oii
1 Tbsp. salad oil
1 Tbsp. roasted sesame (white)
---
Cooking Directions
Cut the tuna into cubes, add Sauce A, and mix in the chopped green onion.
Peel the avocados. Cut them into cubes, and sprinkle with fresh lemon juice.
Place the cooked rice in a bowl and top with tuna and avocado. Add wasabi as desired.
Tuna & Pressed Barley Salad Recipe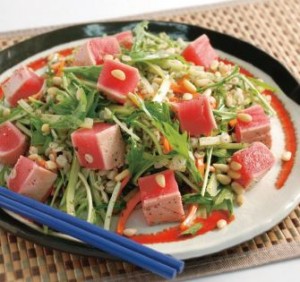 Ingredients (Serves 4)
5 oz. tuna (sashimi grade)
1/2 tsp. salt
1 tsp. pepper
1 Tbsp. olive oil
3 oz. pressed barley
1/2 tsp. salt
2 oz. mizuna (Japanese potherb mustard)
2 oz. carrot
2 oz. celery pine nuts (to taste)
Dressing
10 oba (perilla) leaves
4 Tbsp. olive oil
1/4 tsp. garlic (grated)
2 tsp. plum vinegar
2 tsp. apple vinegar
1/4 tsp. salt
Pepper (to taste)
---
Cooking Directions
Salt and pepper the tuna.
Heat the olive oil in a pan and cook the tuna in until the surface is brown. Cut the tuna into 1-inch cubes and refrigerate.
Boil the pressed barley in salt water and drain off the excess water.
Cut mizuna into 2-inch lengths, and julienne the carrot and celery into the same length.
Mince the oba leaves and pound in a mortar (suribachi). Add the olive oil, salt, grated garlic, plum vinegar, apple vinegar and pepper, and mix well. (To save time, you can use an electric mixer instead of the suribachi)
Mix the pressed barley and seasoned oba in a bowl. Add the mizuna, carrot, and celery.
Spread onto a serving plate. Place tuna on top, and sprinkle with pine nuts.
Tuna Crispy Salad Recipe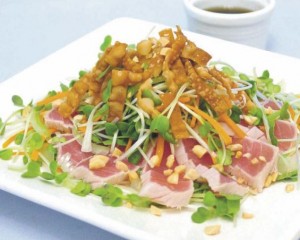 Ingredients (Serves 4)
5.2oz (150g) tuna sashimi block
1 celery stalk
1/2 carrot
1/2 Tokyo negi (green onion)
1 pack kaiware sprouts (daikon sprouts)
Crushed peanuts for garnishing
Dressing
3 Tbsp. soy sauce
2 Tbsp. sake (cooking sake)
2 Tbsp. sesame oil
3 Tbsp. vegetable oil
2 Tbsp. lemon juice
1 Tbsp. grated ginger
---
Cooking Directions
Wrap the tuna sashimi block in a piece of gauze and place in a strainer. Pour boiling water over the tuna. As soon as the color of the surface changes, cool the tuna in ice water.
Julienne celery and carrot to about 1 1/2″ in length. Julienne only the white part of Tokyo negi (large green onion) and leave it in cold water for crispness.
Cut won-ton skins into about 1/3″ strips and deep fry them to golden.
Slice the tuna and place them onto a plate. Heap the well dried vegetables on top of the tuna.
Garnish with fried won-ton skins and crashed peanuts. Drizzle the dressing before serving.
Tuna Zuke Don Recipe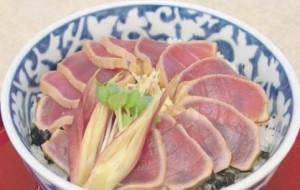 Ingredients (Serves 4)
1 cup rice
1 Tbsp/ sake (cooking sake)
1 piece (about 5cm long) dashi kombu
7 oz. (200g) tuna sashimi block
1 large sheet of yakinori (see weed)
Ginger sliced needle thin for garnish
Wasabi (optional)
Vinegar mixture
1/2 cup rice vinegar
3 Tbsp. sugar
2 tsp. salt
Marinade
3 Tbsp. soy sauce
1 Tbsp. dashi (fish broth)
---
Cooking Directions
Wash rice and soak it in water for 30min. Add sake and kombu to the rice and cook normally. Leave it with the lid on for 10 mins after cooked, then transfer the rice to the mixing bowl.
Boil the vinegar mixture quickly and let it cool. Pour it over rice and mix. Be careful not to knead the rice.
Pour boiling water over tuna. As soon as the color changes, cool it in ice water.
Marinade the tuna block for 2-3 hours. Turn it a couple times in the marinade.
Mix thinly cut yakinori with rice and put it into four individual bowls. Slice tuna about 1/8″ width and place them onto the rice. Drizzle remained marinade mixture and garnish with thinly sliced ginger.
Tuna Steak Recipe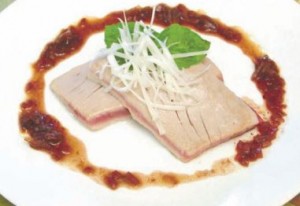 Ingredients (Serves 2)
5.2 oz. (150g) tuna sashimi block
Tokyo negi for garnish
2-4 leaves of basil for garnish
Red wine reduction sauce
1 cup red wine
1/2 onion finely chopped
1 clove garlic finely chopped
Paprika, salt, pepper to taste
Olive oil
---
Cooking Directions
Slice only the white part of Tokyo negi as thin as possible and leave it in ice water for crispness.
Make sauce. Cook onion and garlic in olive oil till the onion becomes translucent. Add red wine and cook to reduce the volume to 1/4 of original volume. Add salt, pepper and paprika for taste.
Cut the tuna for steak, about 1 /2″ thickness. Sauté the tuna in the pan with a little bit of olive oil. Adjust the doneness.
Garnish the steak with basils and Tokyo negi. Serve with the red wine sauce.
Maguro and Avocado Harumaki (spring roll) Recipe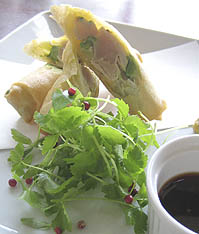 Ingredients (Serves 4)
200g bincho maguro (albacore tuna)
1/2 avocado
Gari (pickled ginger), as desired
Onion, as desired
Spicy mayonnaise, as desired
4 spring roll skin
Mitsuba, as desired
Pink pepper corn, as desired
Dipping Sauce
Ponzu sauce, as desired
Momiji oroshi (grated Japanese radish with chili pepper)
Mastered, as desired
---
Cooking Directions
Dice maguro and avocado. Mince gari and garlic.
Mix [1] with spicy mayonnaise, and wrap with spring roll skin.
Deep-fry [2] in a pan at 350 degrees F for 30 mins.
Halve spring rolls, and place on a plate.
Garnish with mitsuba and pink pepper corn.
Tips
For crispy spring roll, don't deep-fry too long.
Recipe and photo by: JINPACHI
Gochiso Magazine, Nijiya Market
Please follow and like us: