Oshiruko, or zenzai, is one of the desserts we crave during a cold winter. By the way, do you know what the difference is between oshiruko and zenzai? Actually, they both vary depending on the region and can be defined in many different ways. Therefore, when people who are reading this article hear about oshiruko or zenzai as mentioned here, what they'll picture in their minds may differ according to the part of Japan they call home.
Contents:
Oshiruko is Excellent Dessert
Generally, in the Kanto region a soup dish contammg "bean paste" made of red beans is referred to as shiruko, whereas in the Kansai region a dish that doesn't have any granularity (strained red bean paste) is called shiruko and a dish that's granular ( crushed red bean paste) is called zenzai. Since zenzai is known as a rice-cake dish served with red bean paste in the Kanto region, you can see how different the definitions can be. Also in Kanto, this becomes even more complicated, as there are other distinctions such as gozen shiruko and inaka shiruko.
Oshiruko Recipe
Oshiruko Recipe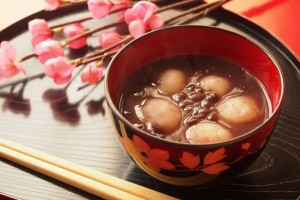 Ingredients (Serves
4

)
4/5 cup (roughly 5 oz.) Nijiya's organic azuki beans (red beans)
3/5 cup (roughly 2.5 to 4 oz.) sugar
Pinch of salt
Adequate amount of round or square rice cakes
---
Cooking Directions
Removing scum
Wash the red beans thoroughly while changing the water two or three times. Place the beans in a pot. Add 3 cups of water and cook over high heat. Once it is brought to a boil, pause for a minute and drain the beans in a colander to remove the scum (this process is referred to as yude kobosu.)
Simmering beans
Put the red beans back in the pot and add just enough water to cover (5 to 6 cups). Cook over medium heat and bring to a boil. Then, lower the heat so that the beans are no longer jumping up and down in the boiling water. Cover with a paper lid (drop lid) and simmer until the beans become tender (as a guideline, about 40 minutes after the water is brought to a boil). This process can be easier with the use of heat-retaining cookware or a pressure cooker. You can also make this by transferring the ingredients to an electric water heater/warmer. Refer to the instruction manual for whichever equipment you decide to use, since the cooking time varies with the equipment.
Seasoning beans once they become tender
Once the beans feel tender and have a soft center when you pinch and press them lightly with your fingertips, add sugar and salt and continue to simmer while stirring occasionally.
Broiling rice cakes
When the soup begins to thicken, add the perfectly browned rice cakes in the soup to complete the dish.
Oshiruko's Supporting Cast
Mochi (rice cakes)
Rice cake is the most essential ingredient. There is a wide range of recipes, from those that instruct you to broil square rice cakes first and add them to the soup, to others that would have you cook round rice cakes without broiling them first.
Shiratama (rice-flour dumplings)
The recipe is simple.
Put 5 oz. of rice flour into a bowl. While adding 130 cc of water a little bit at a time, knead the dough until it is the consistency of your earlobe.
Shape into round balls approximately 2 cm in diameter, and cook them in boiling water for about 3 minutes.
Once the shiratama balls to the surface, continue cooking for another minute or so. Scoop out the balls and cool them in cold water.
Sobagaki (buckwheat flour kneaded with hot water)
Knead buckwheat flour with hot water to make sobagaki balls, and put them in oshiruko.
Kuri Kanroni (candied chestnuts)
Use a jarred or canned kuri kanroni (candied chestnuts) to make this dish. It's easy!
Kabocha (kabocha squash)
Cut kabocha into bite-size pieces and cook them for about 15 minutes. Legend has it that you won't catch a cold if you eat oshiruko made with kabocha on the winter solstice.
Satsumaimo (sweet potatoes)
Steam the potatoes and cut into large cubes for use in this dish.
Tsukemono (pickles)
As a side item, serve sweet oshiruko with a few pieces of well-pickled vegetables or picked radish to complement the flavor.
Fun Recipe of Oshiruko
This is a fun and unusual recipe. Try it with your family for a year-end or New Year's celebration.
Yokan Oshiruko
To make oshiruko, pour 2 cups of water per 5 oz. of yokan (sweet confection made of red bean paste and agar) into the pot, and cook over heat until the yokan melts.
Broil rice cakes and put them into a bowl. Add oshiruko soup to the bowl to complete the dish.
Gochiso Magazine, Nijiya Market
Please follow and like us: