Contents:
Wild Sockeye Salmon – Sashimi from Copper River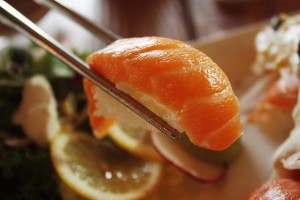 Salmon sashimi– much loved around the world–is a popular item at sushi restaurants. However, most salmon are farmed, so it's rare that we encounter the wild species. Retail outlets have difficulty offering wild salmon that can be eaten raw, simply because it's a challenge to source fresh wild salmon, let alone to ensure its quality and stability of supply.
Copper River Sockeye Salmon, Selected with Pride
When we say "salmon," we're really talking about a group of fish species that number around 30 in the northern hemisphere alone. Among others, chum salmon is frequently found on dinner tables, while Atlantic salmon is well known here in the U.S. sockeye salmon has the reddest flesh among all species; it's popular as high-end salmon, offering quality meat and great flavor. Nijiya Market looked for the best-quality sockeye salmon and eventually found it in the Copper River, Alaska. Lightly salted salmon fillet has been very popular and is now a hit product at Nijiya Market. The secret of our delicious, lightly salted salmon fillet lies in the environment of the Copper River, where our salmon originates.
Copper River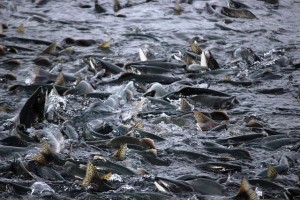 The Copper River is a long river that flows toward beautiful Prince William Sound in the northern Gulf of Alaska, with it upper stretches reaching as far as Fairbanks in the central part of the state. Known for its rapid waters, the river is 460 kilometers (approximately 285 miles) in length. Snowmelt from the Wrangell Range has eaten away soil over many thousands of years and formed the meandering river we know today. The swift current of the Copper River, flowing through the wilderness, is also home to some of the world's most flavorful salmon.
Distinctive Flavor
The sockeye salmon swims vigorously up the natural streams of the Copper River. Because salmon don't eat during the journey upriver, the fish must ingest and store all the nutrition they need before starting the trip. A lot of nutrition is needed to travel through 460 kilometers of rapid water; this is why the Copper River sockeye salmon is so prized. The longer the river, the more fat the salmon must store in its body. While the fat content of normal salmon is 6% to 8%, at least 12% fat is found in Copper River sockeye salmon. Therein lies the reason for the succulent taste that differs from other salmon in so many ways.
Nutritional Value of Sockeye Salmon
Salmon, compared to other fish, is richer in quality protein, which can be digested and absorbed quickly into our body. In addition to this quality protein, the fish is rich in nutrients such as calcium, which has a calming effect; vitamin A, which is good for the skin; vitamin B1, which is known to relieve stress; vitamin B2, which boosts immunity; DHA, which keeps our brains active; EPA, which prevents arteriosclerosis; and minerals, which are essential to health. Salmon, rich in all these nutrients, is ideal for people of all ages, from children to the elderly.
How to cook Sake? (Japanese Salmon Recipes)
Salmon Rose Bud Recipe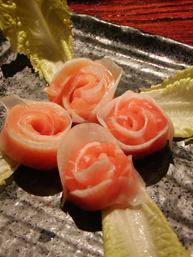 Ingredients (Serves 4)
3 chili peppers
1 lb. daikon
4 slices of sashimi grade salmon
8 thinly sliced daikon
4 lettuce leaves
Sweet sauce:
1 cup vinegar
1 cup sugar
---
Cooking Directions
Make the sweet sauce with sugar and vinegar.
Use a slicer to thinly slice the daikon.
Sprinkle salt over the sliced daikon and rinse it off with water.
Drain and dry daikon with a paper towel.
Put the daikon in a jar and pour the sweet sauce into it. Leave it in a refrigerator for a day.
Place 4 daikon slices with their edges over-lapping.
Place 2 salmon sashimi slices on top of the daikon.
Roll up the daikon and salmon from the edge.
Cut the roll in half and place the cut side on the bottom and form it into a rose bud.
Repeat procedure 6 ~ 9 times to create two more rose buds.
Place lettuce on the plate and put the salmon rose bud in the center.
Tips
Top the rose bud with salmon roe to make it extra fancy.
The sweet sauce can be used for any other pickled vegetable.
Recipe and photos by: Japon Bistro
Foil-baked sockeye salmon with onion Recipe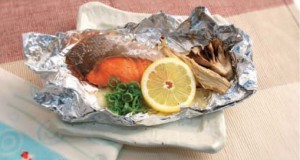 Ingredients (Serves
4

)
4 pieces sockeye salmon fillet
2 medium onions
2 packs of maitake mushrooms
2 packs of enoki mushrooms
Green onions (as desired)
Butter (as appropriate)
Pepper (as appropriate)
1/2 lemon
Soy sauce or ponzu (as appropriate)
---
Cooking Directions
Slice the onions. Chop the green onions into thin slices. Cut the lemon into round slices.
Remove the tough stems of the mushrooms and divide into four equal portions.
Cut 4 (1 sq. ft.) pieces of aluminum foil. Fold each side so that it has a strip about 1 /2 inch wide.
Lay onion slices on only one side of each square of aluminum foil. Layer the rest of the ingredients in this order: butter, salmon and mushrooms. Sprinkle with pepper.
Fold the other side over to cover the salmon. Double- or triple-fold each end to seal. Grill for about 20 minutes. Sprinkle with green onions and place a lemon slice on top. Serve with soy sauce or ponzu as desired.
Takikomi rice with lightly salted sockeye salmon and karashi mentaiko (spicy cod roe) Recipe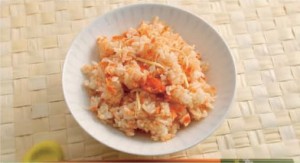 Ingredients (Serves 4)
10.5 oz. rice
1-3/5 cups water
1 Tbsp. sake
4-in. square hidaka kombu (dried kelp)
1 tsp. soy sauce
1 small piece fresh ginger root
1 piece sockeye salmon fillet
1 sack karashi mentaiko (spicy cod roe)
---
Cooking Directions
Wash the rice the night before and soak the rice in water with the konbu overnight.
Remove the konbu. Place thinly sliced ginger, sake, soy sauce and the salmon on top of the rice, and cook.
Once the rice is done, place the karashi mentaiko on the rice and cover. Let it steam for 10 minutes. Remove the skin and bones from the salmon and crumble the flesh over the rice. Crumble the karashi mentaiko over the rice. Mix lightly.
Easy roasted salmon Recipe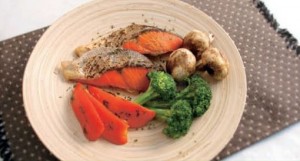 Ingredients (Serves 4-6)
6 lb. – 7 lb. sockeye salmon fillet (unseasoned)
Lemon juice squeezed from 1 lemon
Salt and pepper (as appropriate)
Garlic powder (as appropriate)
Oregano (as appropriate)
1/4 cup melted butter
---
Cooking Directions
Place the salmon fillet in a deep dish and squeeze the lemon juice over it.
Sprinkle salt, pepper, garlic powder and oregano onto the salmon fillet.
Pour melted butter over the seasoned salmon fillet.
If grilling outside, wrap the salmon fillets in aluminum foil and bake it on a gridiron.
If using a conventional oven, bake at 350°F for about 30 minutes.
* The best for B.B.Q.!
Broiled salmon with grated daikon radish Recipe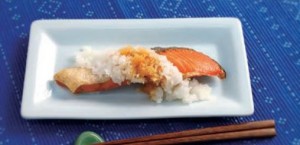 Ingredients (Serves 4)
4 pieces salmon fillet (unseasoned)
Salt and pepper (as appropriate)
Olive oil (as appropriate)
Grated daikon radish (as appropriate)
Soy sauce or ponzu (as appropriate)
---
Cooking Directions
Sprinkle the salmon fillet with salt and pepper.
Heat the olive oil in a frying pan.
Place the salmon fillet in the frying pan with its skin side down. Cook uncovered for 7 minutes.
Flip the salmon fillet over to cook the other side for 3 minutes, uncovered.
Place the cooked salmon fillet on a plate to let stand for a while.
Transfer each piece of fillet onto a plate. Serve with grated daikon radish and soy sauce (or ponzu).
Tips
Do not overcook raw salmon, or the texture will become dry like a salted salmon.
Salmon can easily be heated through just like beef, and it's one of a few species of fish that can be cooked with residual heat.
If you cook salmon in the same way you cook steak, the result will be surprisingly tender.
Salmon and Orange Marinade Recipe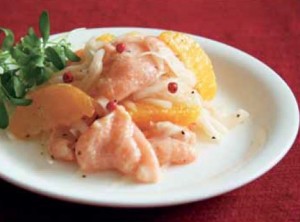 Ingredients (Serves 2)
2.8 oz. salmon sashimi
1 small orange
1/6 onion
1/3 lemon juice
Salt and pepper (to taste)
---
Cooking Directions
Thinly slice the salmon and onion. Peel the orange and divide into pieces.
Combine oil ingredients and marinate in the refrigerator.
* Serve with pink pepper if available.
Salmon Tartare Recipe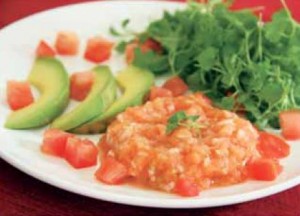 Ingredients (Serves 2)
2.8 oz. salmon sashimi
1/2 avocado
1/2 tomato
Leafy salad greens (as needed)
[A]
1/2 tsp. soy sauce
1 tsp. lemon juice
Wasabi to taste
Salt and pepper to taste
---
Cooking Directions
Roughly chop the salmon into cubes and place "A" on the cutting board. Continue chopping as you mix together all ingredients until well blended.
Slice the avocado. Cut the tomato into cubes. Place the salad greens, avocado and tomato on a plate and serve with the salmon tartare.
Chilled Salmon Pasta Recipe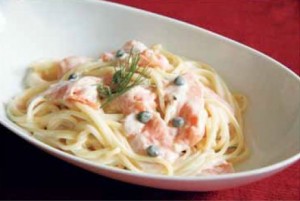 Ingredients (Serves 2)
5.3 oz. salmon sashimi (thinly sliced)
5.6 oz. pasta
[A]
6 Tbsp. plain yogurt
5 Tbsp. mayonnaise
1 Tbsp. capers
Salt and pepper (to taste)
Dill (optional)
---
Cooking Directions
Bring water for pasta to a boil. Add a pinch of salt and cook pasta slightly longer than directed on the package. Place the pasta in chilled water and then drain.
In a large bowl, mix together the sliced salmon and "A". Add the pasta. Toss to coat. Transfer to a serving dish and top with some dill as desired.
Salmon Pressed Sushi Recipe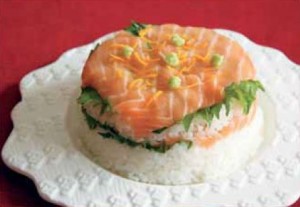 Ingredients (Serves 2)
2.8 oz. salmon sashimi
6 shiso leaves
1 cup cooked rice
2 Tbsp. sushi vinegar
Wasabi (to taste)
1 orange (optional)
---
Cooking Directions
Mix sushi vinegar with the freshly cooked rice. Set aside to cool.
Thinly slice the salmon and spread half the portion into the bottom of a Tupperware container. Cover the salmon with 3 shiso leaves to make a second layer. Place l /2 cup sushi rice to make the third layer. Repeat the process.
Cover the top layer of sushi rice with cling wrap. Place a same-sized Tupperware container on top and press the sushi layers gently but firmly.
Turn upside down to transfer the pressed sushi onto a serving plate. Serve with wasabi and garnish with a thinly sliced orange (optional).
Gochiso Magazine, Nijiya Market
Please follow and like us: