Difference between Shirasu and Chirimen
Shirasu fish refers to small whitefish, specifically boiled young katakuchi-iwashi (Japanese anchovy), ma-iwashi (Japanese sardine) and urume-iwashi (round herring). Dried shirasu is called "chirimen" because it resembles the chirimen crepe fabric made by a traditional Japanese tie-dye method.
Shirasu is given different names in different parts of Japan. It is called "kama-age" and "shirasu-boshi" in the Kanto region of Japan and "chirimen-jako" in the Kansai region.
Contents:
About Shirasu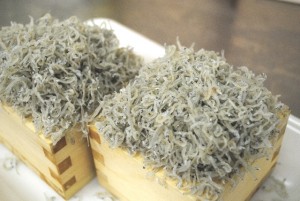 Shirasu fish (boiled whitebait) is a must ingredient in Japanese food because the calcium and protein in small fish benefits our bodies, which require 600 to 800 mg of calcium every day.
You can enjoy shirasu just by combining it with daikon oroshi (grated Japanese radish) over rice! Wild harvested shirasu is eaten by adults and children alike throughout the year. It's an essential part of our daily diet, and it's everyone's favorite.
Nijiya Market is committed to ensuring the quality of the shirasu and chirimen (boiled and dried whitebait) sold in our stores. We value the unique umami (savoriness) and flavor of shirasu, and use only premium whitebait harvested in Japan. Nijiya's healthful shirasu and chirimen are prepared without the use of additives or other chemical ingredients. We recommend "Kama-age Shirasu," which is available at our stores. Kamaage Shirasu is made by bringing freshly harvested whitebait to a boil and quickly draining it. It tastes great with ponzu (citrus based, seasoned soy sauce). You have to try it!
Eat Shirasu and Be Healthy!
It has been reported that the only nutrition the average Japanese is lacking today is calcium. Nijiya's shirasu fish and chirimen (boiled and dried whitebait) are wild harvested seafood rich in calcium.
Eating shirasu with vinegar, umeboshi (pickled plum), or citrus fruit helps transform calcium into a form that can be readily absorbed by the body. Taking calcium with vitamin D and K encourages calcium digestion.
Shirasu is rich in calcium and vitamin D, so use ingredients containing vitamin K, such as spinach, komatsuna (Japanese mustard spinach), mizuna (Japanese potherb mustard), shungiku ( chrysanthemum leaves), daikon (Japanese radish) and natto (fermented soybeans) to prepare a delicious shirasu dish.
Shirasu is highly nutritious and contains a lot more nutrition than one might expect from such a small fish. It provides an excellent solution to calcium deficiency. Shirasu also contains a lot of DHA (docosahexaenoic acid), so it softens the brain cell's membranes and effectively boosts one's learning ability. Eating delicious shirasu every day will make bones stronger and bodies healthy, and it will make your brain work better. Why not start eating shirasu today?
How to cook Shirasu and Chirimen?
Kama-age Shirasu Don Recipe (rice bowl with boiled whitebait topping)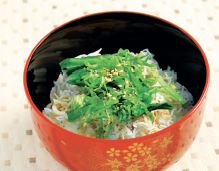 Ingredients (Serves
1 bowl

)
1 bowl of hot rice (approx. 7 oz.)
Kama-age shirasu (as needed)
1 oba (green perilla) leaf (Julienned)
Pinch of white sesame seeds
1 tsp. soysauce
1/2 tsp. mirin (sweet Japanese cooking wine)
Spinach or komatsuna (Japanese mustard spinach) ohitashi (boiled and seasoned with soy sauce and other ingredients) (small portion)
---
Cooking Directions
Mix the soy sauce and mirin.
Place the hot rice in a bowl, and put a hearty serving of Kama-age Shirasu on top.
Drizzle the sauce (prepared in Step 1) over the rice (prepared in Step 2), top with the ohitashi, oba and white sesame seeds, and serve.
Shirasu Tofu Burger Recipe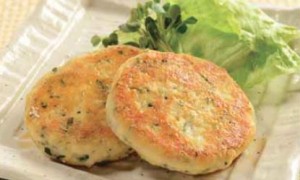 Ingredients (Serves 2)
5-1 /2 oz. shirasu
1 cake of firm tofu
10 green shiso leaves
3 Tbsp. potato starch
2 Tbsp. salad oil
Ponzu (as desired)
lchimi red pepper (as desired)
---
Cooking Directions
Crumble the tofu by hand and let drain in a colander.
Finely chop the shiso leaves and mix thoroughly with the shirasu, tofu, and potato starch.
Divide into four equal parts and shape into patties. Grill both sides in a pan with salad oil till browned.
Pour ponzu and sprinkle ichimi red pepper, as desired.
Quick Stir Fried Takuan with Chirimen Recipe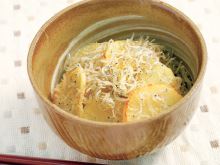 Ingredients (Serves 1)
0.3 oz. chirimen (dried whitebait)
Takuan (pickled Japanese radish), thinly sliced (as needed)
1 tsp. sesame oil
---
Cooking Directions
Heat sesame oil in a fry pan, add slices of takuan, and quickly stir fry.
Add chirimen-jako (dried whitebait) and mix while stir frying.
Chirimen Tsukudani Recipe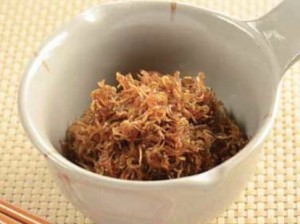 Ingredients (Serves quantities as desired)
3-1/2 oz. chirimen
6 Tbsp. koikuchi(dark) soy sauce
3-4 Tbsp. sugar
6 Tbsp. mirin (sweet cooking rice wine)
3 Tbsp. sake (cooking sake)
---
Cooking Directions
Put the chirimen in a pot, add all the seasonings by lightly mixing to dissolve and leave as is for about 15 minutes.
Bring the mixture to a boil, then lower the heat down to medium. Cook down for about 15 minutes over heat high enough to bubble on the surface.
Reduce the heat to low as the broth thickens; continue simmering to the level of thickness desired. (Be careful not to burn it!)
*If you add a darker-colored tamari shoyu, you can add a tsukudani-like finishing touch.
Chirimen and Carrots a-la Kimpira Recipe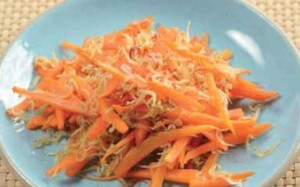 Ingredients (Serves 2)
1 carrot
1/2 oz. chirimen jako
1/2 red pepper
1/2 Tbsp. sesame oil
1/2 Tbsp. soy sauce
1 Tbsp. water
---
Cooking Directions
Peel the carrot and cut in half lengthwise. Chop into 1 /3 inch pieces and slice diagonally. Cut the red pepper in half and remove seeds.
Heat a skillet with sesame oil and put in the chirimen and red pepper to saute lightly. Add the carrot. After it has softened, add soy sauce and water to seal in the flavor.
Shirasu Pasta Recipe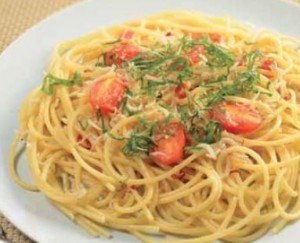 Ingredients (Serves 2)
6 oz. pasta
3-1/2 oz. shirasu
5 cherry tomatoes
3 leaves green shiso
1 red pepper
1 clove garlic
2 Tbsp. olive oil
Dashes of salt and pepper
---
Cooking Directions
Add salt to boiling water and cook the pasta as directed.
Cut the garlic in half and crush with the back of a knife. Remove seeds from the red pepper and cut into round slices.
Put olive oil, garlic, and red pepper in a pan and heat on low.
Put the halved cherry tomatoes in the pan and mix lightly. Stir in the shirasu and heat quickly.
Add the cooked pasta. Adjust the flavor by adding salt and pepper to taste.
Arrange on a plate and garnish with the finely-chopped green shiso leaves.
Shirasu Garlic Oil Recipe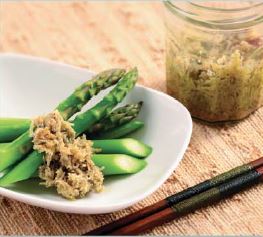 Ingredients (Serves 1 cup)
3 1/2 oz. shirasu
4 Tbsp. olive oil
1 Tbsp. mirin (sweet cooking rice wine)
1-2 cloves garlic
1 Tbsp. soy sauce
1 hot red pepper (to taste)
---
Cooking Directions
Combine all the ingredients adding the red pepper last. Mix well.
Heat in a pot for about 15 minutes, covered.
When cooled, store in a covered container. Use within a week.
Chirimen and Takenoko Rice Recipe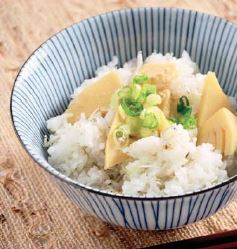 Ingredients (Serves 2)
1/2 takenoko (bamboo shoot) (boiled or raw)
2 Tbsp. Nijiya's Tsuyu Tennen (soup stock)
3 1/2oz. water
Bonito flakes (as desired)
1 Tbsp. chirimen
2 servings warm rice green onions, chopped, as desired sesame seeds, as desired
---
Cooking Directions
Cooking the Takenoko
If it's boiled: cut into bite-sized pieces. Put the soup stock and water in a pot over low heat for 10 minutes. Add bonito and continue cooking. Turn off heat, and drain in a colander.
If it's raw: Put the bamboo shoot in a pot, add just enough water to cover. Cook on low heat for one hour. Remove from heat. Wash with water and peel the skin. Cut into bite-size pieces. Boil again for about 10 minutes. Add bonito and continue cooking. Remove from heat, and drain in a colander.
Mix the rice and the bamboo shoots in a bowl and add the chirimen. Add the green onions and sesame seeds.
Gochiso Magazine, Nijiya Market
Please follow and like us: