Sushi roll (or roll sushi for Japanese) is a unique Westernized version of the Japanese maki sushi (or maki zushi). Like the maki sushi, it usually involves "rolling" the rice and nori using a makisu. Unlike in Japan, however, these have gone beyond the traditional Japanese maki sushi by changing the filling, adding toppings, finding alternatives to nori, and even flipping it inside out. There are no rules or specific definitions of a western sushi roll, for the creator has all the freedom in determining what would go best in it, around it, and even on it. So in a sense, a sushi roll is pretty much every other maki sushi out there that are not made in traditional sushi restaurants in Japan.
Contents:
About Sushi Roll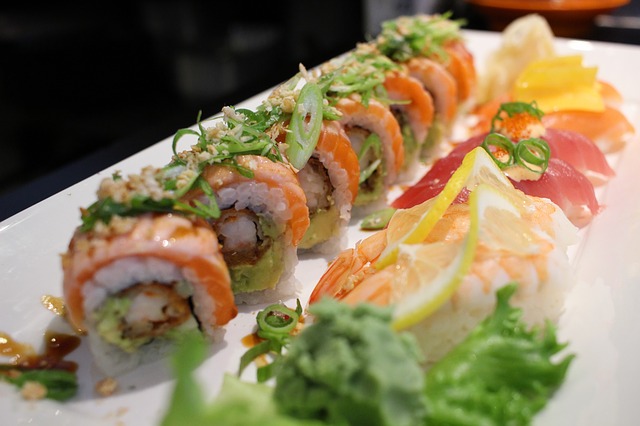 The modern sushi roll phenomenon began with the famous California sushi roll, back in the 1970's. While you may have guessed that the California sushi roll was "invented" in California, it is said that the inventor of the California sushi roll was Hidekazu Tojo, a Japanese sushi chef that opened a restaurant in Vancouver, Canada. Then, called a Tojo-maki roll, many people were not accustomed to the nori seaweed that surrounded the traditional Japanese traditional maki sushi, and he thus began tweaking the old tradition. He flipped the maki sushi inside out, later to be known as uramaki (reverse sushi roll), so that nori would hide behind the rice. Because toro was expensive, he substituted the toro with avocado, which had the same creamy texture. In the 1980's the uramaki avocado roll came to California, where it was then combined with crab meat and called the California sushi roll.
Sushi Roll Innovations
Uramaki became the epitome of the western maki sushi, or sushi roll. The traditional maki sushi was not only a turn off because of the blackish green seaweed that surrounded it, it was hard to chew for the still novice sushi eaters in America. By creating the uramaki, maki sushi not only became edible, it became a new sushi canvas that allowed sushi chefs to explore different ingredients. Also, while traditional Japanese maki sushi came in a thin sushi roll (hosomaki), uramaki with multiple fillings required more filling space, and thus a thick sushi roll (futomaki) technique was applied. You can kind of find similarities to the American burrito formed from the traditional taquitos from Mexico. I guess Americans prefer more stuffings to fill up hungry stomachs.
Sushi rolls became a sensation, and spread across the United States like a brush fire, eventually going global, even coming back to Japan. It was more widely accepted because the fillings didn't look like raw fish. For many, back in the days, the concept of eating fish raw, still raised eyebrows. But with the use of sushi rolls, chefs were able to "trick" their customers into eating raw fish by putting ingredients like salmon, scallops, spicy tuna, and of course, crab meat and imitation crab meat (although those are cooked). Aside from creative roll fillings, different sauces were introduced to sushi rolls. While Japanese sushi normally used soy sauce or ponzu sauce, chefs began experimenting with mayonnaise, eel sauce, and more recently sriracha.
Popular Sushi Roll Menu Ranking
Like the nigiri sushi, we asked our audiences about what kind of sushi rolls they liked. Because the variation of sushi rolls are infinite, as are their names, we limited the list to the more popular ones we see on most sushi restaurants.
10. Tiger Sushi Roll
Main Ingredients: Avocado, Shrimp tempura, Cucumber
Known to some as shrimp tempura roll, this includes a shrimp tempura with vegetables like avocado and cucumber. The name comes from the yellow shrimp tempura and often times it is served with the eel sauce that gives that tiger print (black and yellow). The concept of putting shrimp tempura has become very popular in Japan as well, and there are onigiri rice balls with shrimp tempura in a sushi roll called "ten-musu".
"This is the roll with the best combination of all." (Masako, Female, 50's)
– Everyone likes tempura, especially shrimp tempura. And that gets even better when it is wrapped up in rice and nori to become tiger roll with that sweet eel sauce.
9. Philadelphia (Philly) Sushi Roll
Main Ingredients: Salmon, Avocado, Asparagus, Cream cheese
One of the well-known American fusion rolls that consists of raw salmon and cream cheese. Obviously when we think of cream cheese, we think of Philadelphia Cream Cheese and that's where the name came from. The notion that avocado's texture is similar to that of fatty tuna is even more intensified when avocado and cream cheese are added to the already fatty salmon.
"I like the flavor and texture of cream cheese in my sushi! If I don't get a Philly roll, I'll ask to add cream cheese." (Nikki, Female, 20's)
– We can't call it a Philly without cream cheese, right? So yeah, go ahead and ask for that cream cheese. And if the chef says they don't have it, maybe we should just bring our own? Ever wonder how it would taste if you use flavored cream cheese instead of plain?
8. Crunch Sushi Roll
Main Ingredients: Spicy tuna, Crispy seaweed, Tempura
Often mixed up with the tiger sushi roll because it also contains shrimp tempura. The main difference between the Crunch and the Tiger is the exterior. The crunch roll uses "tenkasu" or the crispy tempura breading that surrounds the outside of the roll, giving it extra crisp to the roll. Some places make the tenkasu in the morning, others make it per order (for maximized crunch). It is also served with eel sauce.
"LOVE THE CRUNCHY ROLL. I DON'T HAVE ANY MORE REASON THAN TO SAY I LIKE IT." (Timothy, Male, 50's)
– We began seeing crunch rolls around 2005-ish, and it really took off. It's also around the time when the price of shrimp tempura rolls without the crunch, which were once around $7, shot up to $10 because of the crunch. Oh but we can't help ordering it without the crunch…
7. Dynamite Sushi Roll
Main Ingredients: Yellowtail, Shrimp tempura, Bean sprouts, Carrots, Avocado, Cucumber, Chili, Spicy mayo
The dish "Dynamite" became popular in the United States back in the early 2000s. It was sautéed/baked seafood with a special spicy mayo dressing, and was so popular, in fact, someone said, hell, why don't we incorporate it into our sushi rolls. And from there came the Dynamite Roll, usually consisting one to two types of seafood (scallop, shrimp, yellowtail, etc) with that addicting spicy mayo sauce.
"Baked mayo is a very nice flavor and goes well with the other ingredients, somewhat reminiscent of melted cheese." (Cora, Female, 20's)
– I bet you were a big fan of the dynamite dish, until you discovered the dynamite roll. Yes that baked mayo is indeed a great invention of the American fusion sushi.
6. Rainbow Sushi Roll
Main Ingredients: Fish, Avocado on the top of a California Roll
When you want rolls because they are so good, but also want raw fish this is what you should order. A rainbow sushi roll is a California sushi roll topped with layers of various slices of fish and avocado. You will often see yellowtail, boiled shrimp, tuna, and salmon. It gives a colorful look resembling a rainbow and that's where the name comes from. Despite using a lot of raw fish, it's not that expensive (usually around $4 to $5 more than a normal California sushi roll).
"It has varieties of fish in it. Same like my opinion about chirashi." (Rina, Female, 20's)
– It never occurred to me, but you're right, it does resemble a chirashi, doesn't it?
5. Dragon Sushi Roll
Main Ingredients: Eel, Crab, Cucumber / Avocado outside
If you are an eel lover, the dragon roll should be your number one pick. While the base roll may differ depending on the store, it is usually a California roll, but on top, you'll get a whole sheet of eel. Eel is a sea snake, and snakes resemble dragons, and thus came the name dragon roll. But there are restaurants that decorate it to make it look like an actual dragon.
"It's soooo good!!! It's all of my favorite things combined into one roll." (Javi, Male, 30's)
– Eel is actually very rich in iron and vitamins. So not only is it soooo good, it's soooo healthy.
4. California Sushi Roll
Main Ingredients: Crab, Avocado, Cucumber, Nori, Sesame seeds
The most famous sushi roll of all takes the number 4 spot, the California sushi roll. Formerly called the Tojo sushi roll, this is the father of all sushi rolls. With crab meat, avocado, and cucumber wrapped uramaki style, it makes it safe to eat for those who want to stay away from raw fish, but amazingly delicious. But more and more, lower-end sushi restaurants are using "imitation crab meats" as their crab. How do you tell the difference? If the crab meat has a red exterior and is in a stick form, it's fake. Actual crab meat will usually be shredded in to small bits. Make sure you're not being fooled with the pricing. (Imitation California Sushi Roll: $3~5, Real Crab California Sushi Roll: $6~$8)
"I think including avocado was the best invention of rolls. Its creaminess surprisingly goes well with rice." (Tina, Female, 40's)
"Because this is very popular in US, and love avocado. Also, price is always reasonable at any sushi restaurant." (Yasuyuki, Male 40's)
"It's the most basic but it's always consistently good, and it's a good barometer for rating different restaurants." (Emi, Female 40's)
– It really does indeed, and we have to thank Chef Tojo for that!
3. Spicy Tuna Sushi Roll
Main Ingredients: Tuna, Mayo, Chill sauce, Nori
Surpassing the California sushi roll is the spicy tuna sushi roll. Spicy tuna is also a western invention, which uses minced tuna mixed with various seasoning like mayo and spicy oil to make that nice hot flavor (recipes varies at restaurants). It is wrapped uramaki style with cucumber, and in many cases has a sesame seed exterior. I see some customers asking to customize that a bit to substitute the cucumber with avocado, which definitely can't hurt. California sushi roll and spicy tuna sushi rolls are not so hard to make, so we definitely recommend trying it at home.
"Although not a fan of rolls, it is simple, but nice with a bit of spiciness. Found in virtually all sushi restaurants." (Rene, Male, 50's)
"Good flavor and texture and is easy to eat. Can do many variations with spicy tuna to satisfy everyone's taste buds." (Melo, Female 30's)
"I like the spiciness and I like tuna and the mayo mixed with chili sauce is a nice combination." (Joni, Female 50's)
"My husband liked Spicy Tuna sushi Roll first. I thought spicy source is too much flavor for sushi. But every time we go sushi, I have small sample from my husband plate and now spicy tuna sushi roll is my habits." (Mari, Female 40's)
– So even sushi lovers that typically don't eat rolls are a fan of this! And I don't blame you, because once in a while you get that craving for a spicy tuna sushi roll.
2. Caterpillar Sushi Roll
Main Ingredients: Eel, Cucumber, Egg, Avocado
So you have a huge thing for eels, but also happen to be an avocado lover (as many of us are). So comes the caterpillar sushi roll at number 2 in the rankings because while the notion of caterpillar may not be appetizing, the ingredients sure are. The base roll consists of eel and cucumber. It will be topped with sheet after sheet of avocado and eel sauce. So you really get a lot of both. You can say it's the reverse version of the dragon sushi roll.
TIP: Eel is more expensive than avocado, therefore, a dragon sushi roll should be AT LEAST $2 more than your caterpillar sushi roll. If they are around the same price range, it's either you're getting a smashing deal on your dragon sushi roll or your avocados on the caterpillar are priced like toro. And last time I checked, avocados did not have a belly.
"Love the taste, it is a very colorful roll and the pleasant color often indicates good taste. It is also a roll that friends like to share with other rolls for a richer dining experience." (Rod, Male over 70)
"I like avocado with rice. I have never had it before I came to LA and it is a very creative sushi." (Misako, Male 40's)
"The eel sauce combined with the avocado is really delicious." (Eunice, Female 20's)
"This sushi roll is covered with my favorite eel!!! Avocado, eel, cucumber, egg the entire combination is perfect." (Masumi, Female 40's)
– That really is the beauty of rolls. Unlike the hand rolls, where you get to monopolize it, cut rolls you have to share – no, I mean you CAN share. That way, you can try out different rolls in one meal!
1. Spider Sushi Roll
Main Ingredients: Soft-shell crab, Cucumber, Lettuce or Avocado, Spicy mayo
The number one popular sushi roll ranking is the Spider Roll. It's very different from the other rolls above in that, it's wrapped uramaki, but using a super futomaki technique (much thicker than the other rolls). It contains a fried soft-shell crab, which is crispy and juicy. Because the crab is caught when still young, the shell is not too hard and edible. Some restaurants will serve the fried soft-shell crab a la carte as an appetizer.
"I enjoy the crispness of the deep fried soft shelled crab with a soft center, accompanied by the avocado or cucumber to compliment the roll." (Gloria, Female, 30's)
"Fried soft shell crab is very tasty, and gives the sushi roll a nice crunch." (Tony, Male 50's)
"Love soft shell crab. Crunchy and full of seafood flavor. Adds texture and flavor to the roll." (Rebecca, Female 30's)
"Soft shell crab is best eaten deep fried in my opinion. I think eating it in a roll is better than by itself." (Junichi, Male 30's)
– Soft-shell crab and avocado is definitely another great combination!
Q. Which is your favorite Sushi Roll?
Let's cook the most basic sushi roll, California Sushi Roll!
California Sushi Roll Recipe
The most popular roll sushi borned in U.S.


Prep time:
Coock time:
Total time:
Ingredients (Serves
1 Roll, cut

)
5 oz of lukewarm sushi rice (Sushi Rice Recipes)
Half sheet of nori seaweed
2 oz of cooked crab meat or imitation crab meat
1/4 of an avocado, sliced in the inch slices
5 thinly sliced cucumber (Kirby or pickling cucumbers, peel off skin)
Sesame seeds
Kewpie Mayonnaise
Tools:
Sumaki (bamboo sheet)
Saran Wrap (plastic wrap)
---
Cooking Directions
Wrap the sumaki with plastic wrap. This will prevent rice from sticking on to the surface of the sumaki. Place the half sheet of nori horizontally. Lightly wet your hands, and cover the nori with layer of rice.
TIP: It is better to make a narrow rice ball the length of the nori first, and place the rice ball on the bottom edge and spread the rice by pushing the rice towards the upper portion of the nori.
Sprinkle sesame seeds as desired. After the rice is evenly spread out, flip the nori, so that the rice side is facing the sumaki, and the nori side is facing up. Place your ingredients in the bottom portion of the nori (not too close to the bottom edge).
TIP: Mix crab meat with mayo to make a dressing. For imitation crab, dice up the imitation crab into smaller pieces first before making a dressing.
Using the sumaki, fold the bottom portion inwards so that it covers the ingredients. It is ideal to have about an inch or inch and half of nori left over (you do not want to over stuff the roll).
Apply pressure on the sumaki so that the roll is tight, and continue to wrap the remaining portion. The inside ingredients should be wrapped about 1.5 times, rather than just once.
When cutting the roll, place the roll out of the sumaki onto a cutting board. Moisten the knife with a wet towel, and cut it into halves first. Then, line up the two halves and cut it into 3 evenly spaced pieces so that you will get a total of 6 pieces from a single roll.
TIP: When cutting a sushi roll, do not attempt to "chop" it by pressing hard. Rather begin with the front edge of the knife, and while pressing down, pull the knife backwards towards you, so that you are "slicing" it. It will prevent the roll of being squashed and give you a cleaner cut.
Various Recipes of Sushi Rolls for Intermediate and Advanced
Supervision: Andy Matsuda, Sushi Chef Institute
Spider Sushi Roll Recipe
Soft shell crab is frozen in different sizes and is available fresh in autumn. Roll long direction with rice on the inside of the roll with julienne cucumber, avocado, daikon sprouts, masago, and deep fried soft shell crab. Dredge crab in flour only then deep fry. Cut the roll into six pieces and garnish with mustard sauce (2 mayonnaise – 1 mustard – a little honey), and sriracha/honey sauce.
Caterpillar Sushi Roll Recipe
Julienne cucumber with heated eel is on the inside of the roll. Rice is on the outside with sesame seeds; a thinly sliced 1/2 of avocado is placed on top of the roll. Slice the avocado length wise. Peel one half then slice thinly across the width. Then press to the side creating a cascade effect.
Place the sliced avocado on top of the roll evenly distributing the slices along the length. Cover the roll with plastic wrap then press with a makisu.
Cut into bite sized pieces then repress the roll with the makisu.
When slicing, leave the end pieces larger to create a head and tail. Cut two small antennae from a jalapeno chili and two eyes using pickled burdock.
Garnish with eel sauce.
Dragon Sushi Roll
Avocado and julienne cucumber on the inside with rice and sesame seeds on the outside of the roll. On top, three pieces of heated fresh water eel are laid on length wise allowing a tail to extend off one end. Cover with plastic wrap and press. Cut into bite sized pieces leaving the piece for the head larger than the other pieces. Serve on a long plate and garnish with shiso leaf split in half length wise for wings, horns and eyes are cut from pickled burdock, eel sauce is used for a garnish.


Please follow and like us: