Tempura is a traditional Japanese fried dish, commonly consisting of seafood and vegetables that are lightly battered and deep fried and served with salt or dipping sauce.
Contents:
What is Tempura?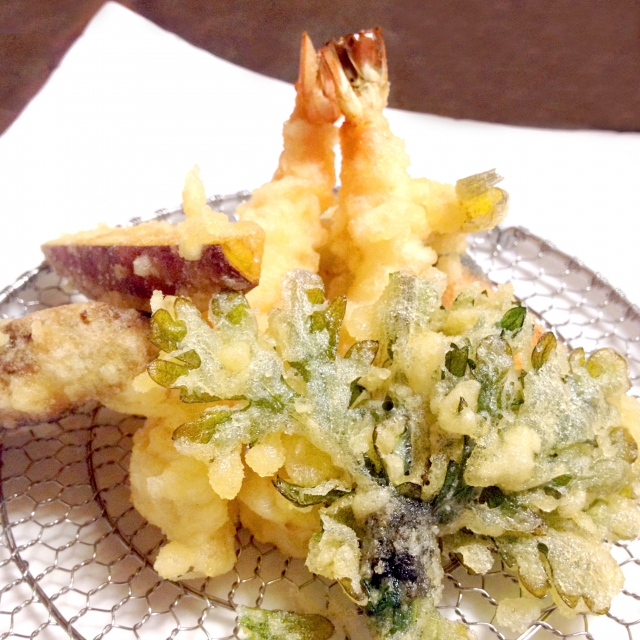 While many first encounter tempura as an ingredient for sushi rolls, or as a side dish in a Japanese bento lunch, tempura is actually a highly specialized cuisine. In Japan, tempura restaurants often only serve tempura, and diners can enjoy omakase style (chef's choice), just as they do at sushi bars. At those tempura restaurants, every element of tempura is carefully selected, from seasonal vegetables to the fish, flour, and frying oils. Sometimes there are a few frying stations with a different oil in each, because each ingredient cooks best at a particular temperature and some oils are more suitable to high temperatures, while others for lower temperatures. When it's made well, tempura is light and crispy, never greasy, and always delicious.
There are a few different types of Japanese fried food, such as karaage (Japanese fried chicken), katsu (breaded cutlet), and tempura. What makes tempura different from other fried foods? The answer is its batter. Karaage often uses a dry potato flour to coat the chicken before frying. Katsu uses layers of dry flour, egg wash and dry breadcrumbs, and tempura uses a wet batter of flour, eggs and water, similar to fritters. Typically tempura is seafood and vegetables, but meat can be battered and served as tempura as well. The current form of Japanese tempura actually derived from Europe, mainly Portugal. In the 16th century, there was a dish called "Nagasaki tempura" in the southern part of Japan. Ingredients were dipped in a wet batter made with sugar, salt and sake, and deep fried in lard. When the eastern part of Japan picked up this dish, they switched lard with a vegetable based oil and fried more vegetables and seafood to better suit the Japanese diet. That was the beginning of tempura in Japan. The word "tempura" comes from the Portuguese "tempero," which means to cook.
How to make a Tempura Batter? (Tempura Batter Recipe)
Tempura can be a fancy omakase meal or a dish cooked at home just like those served in every Japanese household. All you need is some oil and tempura batter; there's no need for a fancy restaurant setting. With a few tricks and a recipe for tempura batter, you can easily have a great family tempura feast at home. Just make sure the tempura batter is light and fluid, and the texture shouldn't resemble pancake batter.
Here's a basic recipe for a foolproof tempura batter!
Tempura Batter Recipe
Ingredients (Serves 4)
1 egg
0.8 cup chilled water
1.5 to 2 cups flour
---
Cooking Directions
Sift flour and keep it in the fridge at least an hour prior to cooking
Pour chilled water and egg in a bowl and mix
Add sifted and chilled flour to the mix little by little, but do not over mix. If possible, use chopsticks to mix and move lightly in a figure 8 motion a few times.
Tips:
If you don't have chilled water on hand, just add a couple of ice cubes and use less water.
You can add chilled seltzer water to the tempura batter to achieve a crispier result.
If there's time before you start frying, keep the tempura batter in the fridge.
Make sure all ingredients are free of moisture before putting them into the tempura batter.
A popular trick is to use mayonnaise instead of an egg. Add 2-3 Tbsp of mayonnaise in the water to achieve a crispier result.
Before you sift the flour, microwave it (lay it flat) for 3 minutes. It'll reduce the gluten in the flour.
Whatever you do, do not over mix the tempura batter; it'll make the tempura doughy.
For vegans, add a half a Tbsp. of vinegar instead of an egg.
Warning:
We know you are tempted, but do not attempt to make ice cream tempura. It's not easy to coat with batter and is potentially dangerous.
Let crisp flowers bloom with the batter, Ebi (Shrimp) Tempura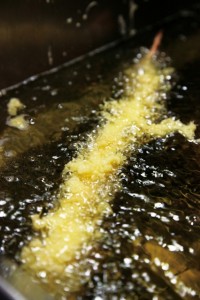 From a casual stand-alone noodle shop to a fancy Japanese-style restaurant, tempura is one of the most commonly eaten dishes in Japan. Here in the U.S., tempura is also one of the best-known Japanese dishes, along with sukiyaki. Tempura is a great way to enjoy seasonal foods, with the light, crispy texture of the batter.
Cooking tempura may seem quite simple, but it requires correct techniques to achieve the right crispiness. It's not an exaggeration to say that being able to create perfectly crisp tempura can earn one a whole new level of respect as a chef. There are certain techniques to make the tempura look bigger and the batter crispier, as described figuratively by the phrase "let the flowers bloom".
We are featuring shrimp tempura, which is one of the most classic types of tempura. We'll let you know how to deep-fry shrimp while keeping it straight, and to make crisp flowers bloom with the batter.
First, the quality of frying oil is a determining factor in the aroma of your tempura. At tempura restaurants they use their own specially blended oils made with sesame oil, cottonseed oil, etc. At home, vegetable oil is commonly used, but adding a small amount of sesame oil will significantly improve the result.
Use caution while deep-frying shrimp. A rapid increase in the temperature of the shrimp can cause the air or water (vapor) trapped underneath the batter to explode, resulting in hot-oil spattering. When using tail-on shrimp, the shrimp needs to be prepared prior to deep-frying. Black tiger shrimp are excellent for making tempura because they're tasty and can be purchased at reasonable price.
The Easy Way To Check The Oil Temperature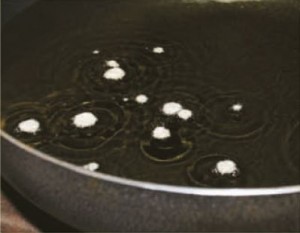 Drop a few droplets of the batter into the oil. If the batter bits come to the surface right away, the oil is ready. You can also check by placing a long cooking chopstick into the oil. If you see tiny bubbles coming off the tip, the oil is ready.
Place shrimp tempura on top of rice and pour sauce over it to make shrimp tendon (tempura rice bowl). You can also place shrimp tempura atop your ordinary soba or udon noodles to turn them into extraordinary dishes. You can make these dishes even more gorgeous if you use the shrimp tempura with "crisp flowers". Why not upgrade this year's toshikoshi soba (year-crossing noodles) to shrimp tempura soba?
Generally, tempura is eaten with either tentsuyu (tempura dipping sauce) or salt. The perfect condiments for tentsuyu are daikon oroshi (grated daikon radish). Momiji oroshi (grated daikon radish with red pepper) and grated fresh ginger root.
Try tempura with a blend of salt, pepper and yuzu powder. Dilute one part Nijiya Tsuyu Tennen with three parts water to make a delicious dipping sauce.
Tempura Recipe
Shrimp Tempura Recipe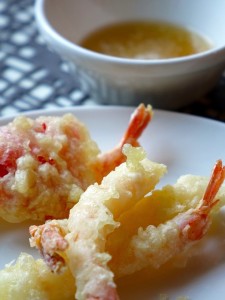 Now let's make shrimp tempura. Just use the following steps!
Ingredients (Serves
4

)

Butter
1 egg
0.8 cup chilled water
1.5 to 2 cups flour
---
Cooking Directions
Peel the shrimp. Devein the shrimp if needed, using a toothpick. Cut a few slits across the belly of the shrimp (3 to 4 cuts, about 1/3 of the way through).
Place the shrimp with its belly down on the cutting board, and press down with your fingers. For a neat result, start from the tall end and work your way up as you gently squishing it down with your fingers.
This helps break up the tough fibers in the shrimp. By taking steps [1] and [2], you can keep the shrimp from curling up.
Spread the fan-like tail until you hear a snap. You can cut off the tip of the middle part of the tail. Scrape the tail lightly with the blunt end of a knife to remove the dirty liquid. By doing so, the tall turns to a beautiful pink color when it's deep-fried.
Add 1.1 times the water to one store-bought tempura batter mix. Mix well.
Lightly coat the shrimp with tempura batter mix.
Using long cooking chopsticks, dip the shrimp in the batter and deep-fry in oil at about 315°F.
Open your palm and dip all your fingertips into the batter. Let the batter drip over the shrimp in the oil as you move your hand sideways. This will create tenkasu (fried batter bits). Coat the shrimp evenly with tenkasu as you continue to deep-fry.
When the bubbling in the oil slows down and you hear a hissing sound,remove the shrimp.
Drain well and serve on a plate.
Ultimate Tricks!
If you've tried to make shrimp tempura by following to the recipe here but still couldn't make it crispy enough, here are the ultimate tricks you can try. These are our company secrets, but we're going to share them with you!
First, before deep-frying the shrimp, make many tenkasu bits. Be careful not to overcook them. As soon as you let the batter drip off your fingertips into the oil, scoop them up right away. Spread the fried tenkasu bits flat in a shallow pan.
Once you've made a sufficient amount of tenkasu bits, dip the shrimp into the batter and then lightly roll it in the tenkasu bits in the pan, just the way you dredge pork in breadcrumbs to make tonkatsu. Thus, at this stage the shrimp is already coated with somewhat crispy batter. Now all you have to do is to deep-fry the shrimp by following the recipe.
If you want to maximize the crispiness of the batter, you can add more tenkasu to the shrimp by following steps [6] and [7] in the directions. Using these tricks, your shrimp tempura will be incredibly gorgeous!
A key to making the perfect shrimp tempura is to use high-quality frying oil. If you use rice-bran oil or olive oil, you'll experience differences in your tempura.
Easy Tempura Recipe with Tempura Flour
Sweet Potato Tempura Recipe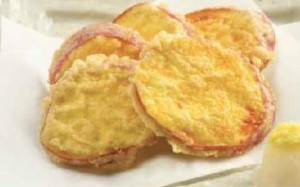 Ingredients (Serves 2)
1 sweet potato
1.8 oz. Nijiya's organic tempura flour
2-1/3 Tbsp. ice water
Oil for frying (as needed)
---
Cooking Directions
Scrub the sweet potato well. Cut into 1/3 inch slices with skin on and soak in water.
Pour oil in a frying pan and heat to 338°F.
Prepare the batter by putting Nijiya's organic tempura flour and ice water in a bowl and folding in lightly. Dip the moisture-removed sweet potato slices in the batter and slide into the hot oil to fry.
Do not touch the tempura until the pieces begin to float to the surface. Then, turn them over and fry the other side.
Freshly-fried tempura is delicious. Let us make tasty tempura by using Nijiya's organic tempura flour.
The secrets to making good tempura are as follows:
Keep all the ingredients cold. When cold water is used in the batter, it fries nice and crispy. It's even more effective if carbonated water is used.
Fold in the flour and water quickly. If you over-mix the batter, it gets sticky and heavy.
Monitor the oil temperature continuously while you fry. The rule of thumb is 320°F for leafy greens and 338°F to 356°F for other vegetables, fish, and kakiage (mixed ingredients). When ingredients are put into the frying pan all at once, the cooking temperature drops. The amount of tempura frying at the same time should occupy no more than half the space in the pan.
Keep these tricks in mind before you start cooking so that you will be able to make delicious tempura without wasting time.
Kakiage Tempura Recipes
Let's Cook Kakiage with Seasonal Vegetables!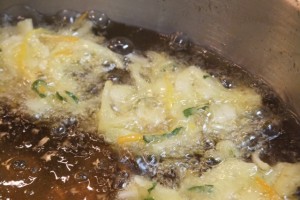 The real thrill of kakiage (Japanese fritter, a type of tempura) is that crunchy sensation when you bite into the hot, right-out-of-the-oven fritter filled with vegetables and seafood.
The appeal of kakiage tempura is that you can combine a variety of ingredients and deep fry them together. The tasty morsels entertain you with their crusty texture, appetizing aroma, and delicious flavor. The term "kakiage" is said to have come from kakimazeru and ageru, which respectively mean "mix together" and "deep fry" in Japanese. People in olden times must have enjoyed making kakiage by mixing together ingredients and batter. The basic process of making kakiage is to shape a mixture of ingredients and batter into small pieces and then deep fry them in oil. It is said that a tempura chef has passed the test once he or she learns to make kakiage well, because it is extremely difficult to perfectly adjust the amount and consistency of the batter, the oil temperature, deep-frying time, etc., as well as to choose the right ingredients and skillfully combine them with the batter. Normally it requires a high level of skill and many years of experience to make proper kakiage.
In this issue we'll teach you the tips for making kakiage to help you become an instant tempura chef.
You can make various shapes of kakiage by making the batter and ingredient mixture thick or thin. (Thick pieces are generally more difficult to fry.) The three key points are as follows:
Bind the ingredients together using the batter.
Be sure the center is cooked properly, without burning the outside.
Deep fry to a crunchy texture by keeping an appropriate amount of moisture in the batter.
The batter at the center doesn't directly touch the oil and is only steamed. To facilitate this steaming process, add slightly more egg than you normally would when making batter so that the batter becomes spongy. When eggs breaks down due to heat, it generates carbonic acid gas that opens holes in the batter to create a texture like that of a steamed cake. Don't overheat the oil, because if the temperature is too high the batter won't stay together. It will scatter easily and the dispersed pieces will quickly harden. Deep fry the batter slowly at a temperature of about 320°F.
Now, let's try making thick pieces of kakiage that are generally difficult to make, as mentioned above. You can use any leftover ingredients you have at home, as well as any pantry staples. So, let's get started!
Basic Kakiage Recipe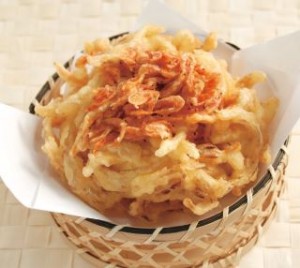 Ingredients (Serves 4)
Basic batter
3-1/2 oz. tempura flour
1 egg
1/2 cup ice water
3 oz. tempura flour (for coating vegetables)
Basic ingredients
14 oz. onion
3 oz. carrot
1 oz. sakuraebi (small pink shrimp)
---
Cooking Directions
Slice the onion into pieces 0.2 inch wide and the carrot into pieces 0.1 inch wide.
Place the water and egg in a bowl and mix well, and then add the 3-1/2oz. tempura flour and mix only roughly. The batter can be slightly lumpy.
Put the vegetables into a large bowl and mix with the 3 oz. of flour.
Pour the batter over the vegetables and mix well.

Heat the oil to 320°F and put a large ladle (otama) into the oil to heat the ladle. (Note: Be careful to avoid being burned.) Take a scoop of the battered vegetables and shape it roughly in the ladle. Sprinkle sakura-ebi on top.
Place the ladle in the oil so that all the ingredients are covered with the oil, and wait for a while until the shaped fritter separates from the ladle and floats in the oil.
Deep fry your kakiage for approximately 2 minutes on one side.
Turn it over and continue to fry for another 30 seconds or so.
Drain the excess oil and place the kakiage on a serving plate.
Variation of Kakiage Tempura
You can change the topping to enjoy many different types of kakiage tempura. Why not master "basic kakiage" and then try creating your original kakiage variations?
Asparagus Kakiage Recipe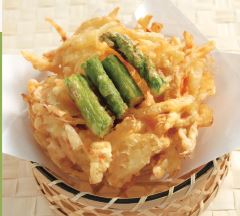 Ingredients (Serves 4)
14 oz. onion
3 oz. carrot
2 oz. asparagus
4 servings of basic batter
---
Cooking Directions
Slice the onion into pieces 0.2 inch wide and the carrot into pieces 0.1 inch wide. Peel a one-third portion from the bottom of each asparagus. Slice asparagus diagonally as thinly as possible and then drain.
Make the basic batter. (Refer to the "basic kakiage" recipe above.)
Place the vegetables (except for a half portion of the asparagus to be kept for topping) in a large bowl and mix with tempura flour until their surface is coated with the flour.
Pour the batter over the asparagus and mix well.
Take a scoop of the battered asparagus ingredients with the ladle as in making basic kakiage, and sprinkle the sliced asparagus on top.
Gochiso Magazine, Nijiya Market
Please follow and like us: