Sashimi is a preparation method for raw fish and in some cases, meats. In the United States, we are accustomed to seeing sashimi mostly at sushi restaurants as an alternative for sushi to those that prefer to enjoy the fresh raw fish without the carbs (sushi rice), but these two actually play a different role. In many cases, sashimi is an appetizer, usually served at the beginning of a meal (although local restaurants in Japan will have combination meals – teishoku – with sashimi being the main entrée).
Contents:
Sashimi vs Sushi
Sashimi (
刺身
) literally means "pierced body," and while the origin of its name is not yet known, some say it comes from the samurai days of the Muromachi era (14th-16th century) and some say it is derived from a fishing method in which a fish's brain is pierced right after being caught in order to preserve its quality and freshness.  Whatever the case, sashimi is culinary tradition shared with China and other Southeast Asian countries that have long eaten raw fish and meats. While sushi usually refers to a method of eating fish and meats (raw or cooked) with vinegar rice, making it the main meal, sashimi is only slices of fish/meats and thus is mostly served as an appetizer, or tapas, to go with sake or beer. Sashimi in Japan can be called "otsukuri".
Unlike nigiri sushi where the fish is cut in a way to accompany the rice, sashimi is meant to stand on its own. Therefore, there are very strict rules on how a fish should be sliced in order to maximize the taste and texture of the fish/meats. Because seasoning is very limited, with the purpose of sashimi being to enjoy the freshness of the fish as is, sashimi is served at the beginning of a meal before flavors from other dishes affect the palate.
Types of Sashimi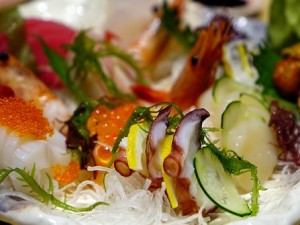 While most fish and meats that can be eaten raw are served as sashimi, depending on the texture and taste, they will be served with different cuts, sauces, and condiments. Fish and meats usually have muscle fibers that run in a certain direction, and it is tougher to chew against these fibers. Therefore, sashimi must be sliced in a way that it cuts against the fibers (hira-zukuri). However, many Japanese people enjoy certain tough fish, and there are types in which you cut parallel to the fiber so that the customer can enjoy its chewiness (sogi-zukuri).
Hira-Zukuri Cut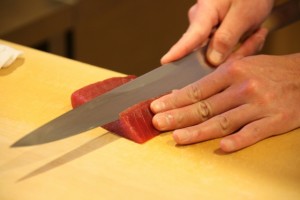 This is the most standard cut of a sashimi, where the sashimi pieces are rectangular in shape, about 3/8 of an inch thick. This cut is used for tuna, salmon, yellowtail, bonito, and most larger fish. Larger fish like salmon and tuna tend to have a softer meat with less fiber, making it easier for people to eat even in larger chunks. Salmon and yellowtail sashimi have plenty of fat as well so even at that thickness it still melts in your mouth. Hira-zukuri (平造り) cut sashimi will be served mostly with wasabi and soy sauce.
Sogi-Zukuri/Usu-Zukuri Cut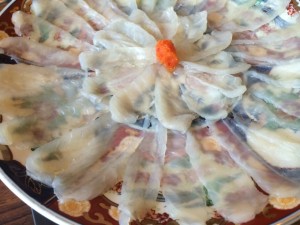 Fish served to enjoy the chewy texture will be prepared with sogi-zukuri (そぎ造り), which is cut in parallel to the fiber. White fish are usually served this way, and they can be served either thick or thin. If you have seen a very thinly sliced sashimi that most likely was a usu-zukuri (薄造り) cut, which literally means "to cut it thin." Some popular fish served usu-zukuri cut will be hirame (halibut), tai (red Snapper), and fugu (puffer fish), which is very rare in the United States. Usu-zukuri is very popular in the Kansai region of Japan, and thus will be served with ponzu sauce, along with condiments such as scallion and momiji daikon radish.
Kaku-Zukuri/Butsu-giri
Although not the most formal way of serving, chefs will sometimes serve sashimi in a dice, or cube, shape. This is usually common with fish like tuna and salmon, and is often meant to be served with other vegetables like yamaimo (mountain yam).
Hoso-Zukuri /Ito-Zukuri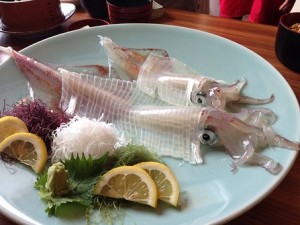 Fish with the toughest fibers, such as squid, will be served in thin strips. In Japan, ika-somen (squid-noodles) are a very popular sashimi, in which squid is cut into noodle looking sashimi.
Tataki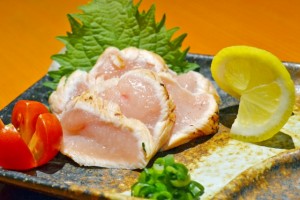 If you have seen sashimi that has a burnt exterior, this is tataki (たたき). Chefs will sear the exterior of the meat and ice it to let the meat get firmer. This is very common with meats such as beef tataki.
Sugata-Zukuri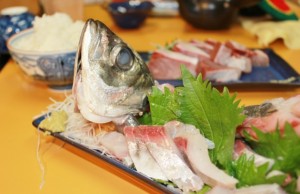 If you have seen sashimi come out with a (inedible) fish head and tail, you should feel special. Sugata-zukuri (姿造り, meaning whole body depiction) is slicing up the fish into smaller pieces and recreating the shape and form of the original fish. It takes a lot of work, and is usually served only on special occasions.
Iki-Zukuri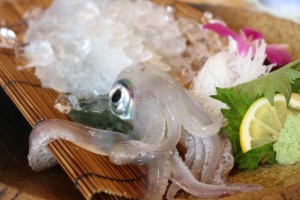 Iki-zukuri (活き造り) is when a live fish is used. For many reasons it is very rare (and not always better) to have live fish at a restaurant, it is however, common to have live shellfish. A lot of clams and shrimp may be alive when made into a sashimi, and in those cases, the term iki-zukuri will be used.
How to eat Sashimi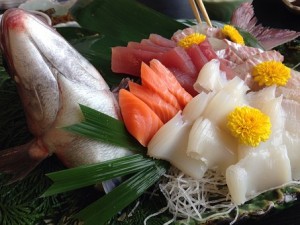 You are absolutely free to order whatever sashimi you'd like, and eat it however you'd like. However, there are manners in eating sashimi that may be good to know in more professional settings or to impress someone. In this section, we'll go over the order of eating sashimi, sauces to use, and the condiments.
As is the case with sushi, sashimi is meant to be eaten in the order from bland to tasty, light to oily. I know eating toro first is very tempting, but chefs often serve in a way that you will taste the fish the most. It is best to begin with a white fish like snapper or halibut, then go to shellfish like clam, and finish with a red fish meat like tuna or toro. If you do happen give in to your temptation and break the order, use condiments like the tsuma (thinly sliced daikon) or the gari (ginger) to neutralize your palates.
While in many cases, sashimi is meant to be eaten with soy sauce and wasabi, some like the usu-zukuri, will be served with other sauces.
Shio (Salt)
Yes, some restaurants will be give you a dab of salt with your sashimi. Salt should be used for white fish or scallops. It is a big no-no to use table salt, and instead of rock salt, sea salt is preferred. There are salt with kombu extract (kelp) and that will definitely add a scent and flavor to your salt. The purpose of eating sashimi with salt is to enjoy the ocean flavor. Red meat sashimi (like tuna) is too meaty to be enjoyed with salt, but because white meat fish tends to be blander in taste, salt is a good option.
Ponzu
Ponzu is a soy sauce mixed with citrus. It is commonly served with white meat fish in the Kansai region and meant to be eaten with scallion and momiji daikon radish. Ponzu, like salt, should not be served with red fish meats, unless they have been cooked or seared.
Shoyu (Soy Sauce)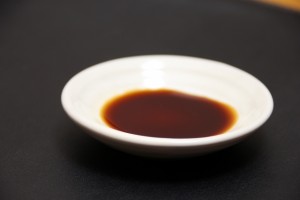 Believe it or not, at expensive sushi restaurants in Japan, the soy sauce that should be used for sashimi and sushi are different. For sashimi, a thicker blend of soy sauce (tamari-shoyu or shikomi-shoyu) is ideal. This is because the fish cannot absorb much soy sauce with a slight dip, and thicker soy-sauce will stick better to the surface of the fish. When you see daikon radish, it is the same concept where the daikon acts to absorb the sauce instead of the fish.
Condiment Rule
Wasabi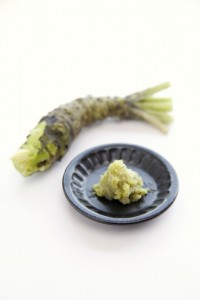 I understand, it is part of the fun to let wasabi swim in your pool of soy sauce. In fact, many people in Japan as well are not aware of the rules on wasabi. Wasabi is never meant to be placed in your sauce plate, nor mixed with soy sauce – ever. Wasabi – real wasabi – loses a lot of its scent and spice when mixed with liquid, and thus should not be placed in soy sauce. Instead, place the wasabi on the slice of fish, fold the sashimi with your chopstick to wrap it up, and dip the sashimi to the soy sauce.
Tsuma
Tsuma are the thinly sliced daikon radish that is used to mount the sashimi. Meaning "wife", it is pretty to look at, but is also there to be consumed. Aside from the health benefits of a daikon radish, it will refresh your mouth for your next piece of sashimi, and limit fishy smell from your mouth.
Shiso
Shiso leaves are the green minty leaf that you will see on the plate. Like the tsuma, it is not just a decorative condiment, but is meant to be eaten. Shiso usually goes well with white meat fish like halibut, squid, clams, and even mackerels.
What is "Sashimi Grade?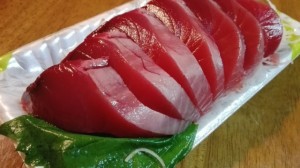 What is the difference between sashimi grade fish and non-sashimi grade fish? Sashimi grade fish are fresher and it's intended to be eaten raw as sashimi or as sushi. The USFDA recommends sashimi grade fish to be frozen at – 31 °F (−35 °C) for 15 hours or at −4 °F (−20 °C) for a week to kill parasites and bacteria. For this reason, non-sashimi grade fish should not be eaten raw and should be cooked to avoid food born illnesses.
When buying a sashimi grade fish, make sure you put it in your cart right before you check out and leave the store so it doesn't sit in your cart too long. It's smart to bring an ice pack to keep it fresh and go straight home from the store so you can put it in a refrigerator. If you buy pre-cut sashimi grade fish, you should consume it on the same day to ensure its freshness. If you get a block of sashimi grade fish, you should eat it within two days of buying it or else you will need to freeze it. When slicing a block of fish to make sashimi, rinse it off under cold water to wash away any bacteria on the surface, then wipe it with a paper towel before slicing the fish. To defrost the frozen fish, put in the refrigerator over night and never use the microwave!
Make sure you buy your sashimi grade fish in a Japanese supermarket to ensure its freshness. At Japanese supermarkets the staff in the seafood department are trained to handle sashimi grade fish, and ensure that it will not be contaminated by non-sashimi grade fish.
If you are not too sure if you want to go through with all that, just go to a sushi restaurant and you can have fresh sashimi or sushi made ready-to-eat.
How to cook Sashimi? (Sashimi Recipes)
Salmon Sashimi Zuke Don (Marinated Salmon Rice Bowl) Recipe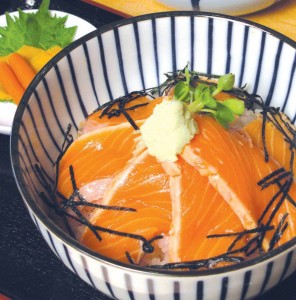 Ingredients (Serves
4

)
4 servings of cooked rice, still steaming
1 lb. salmon (sashimi grade)
Marinade
[A]
1 Tbsp. mirin (Japanese sweet cooking rice wine)
4 Tbsp. shoyu (soy sauce)
[B]
75cc koikuchi (regular soy sauce)
3/4 cup dashi stock
Toppings as desired
Wasabi, ginger, nori (dried seaweed), yuzu pepper, radish sprouts
---
Cooking Directions
Broil the salmon until the color of surface changes.
Put [A] into a pan and boil.
When alcohol content is be evaporated, add [B] and mix.
Put the salmon [1] and sauce [3] into a container and marinate for at least a half day to one night.
Slice the salmon into sashimi-size pieces. Scoop steaming rice into a bowl and place the marinated salmon and nori on top. Add wasabi and radish sprouts as desired.
Maguro Sashimi Carpaccio, Balsamic Flavor Recipe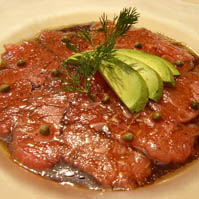 Ingredients (Serves 2)
4 oz. maguro (tuna) sashimi (red meat)
Salt and pepper as desired
15 grains caper
1/4 avocado
2 Tbsp. extra virgin olive oil
1 Tbsp. shoyu (soy sauce)
1 Tbsp. balsamic vinegar
1 clove garlic
Chives to taste
---
Cooking Directions
Crash garlic and combine with extra virgin olive oil, balsamic vinegar, shoyu in a small bowl. When the sauce has a garlic aroma, remove the garlic.
Slice the tuna into approximately 1.5 mm, and place on a big plate.
Cover the plate with a plastic wrap, using back side of spoon, gently pound tuna until they are very thin.
Season with a pinch of salt and pepper, and garnish with capers.
Pour the sauce (1), tip thinly sliced avocado on the tuna, and sprinkle with chives.
Tips
Slice tuna as thinly as possible you can, and gently pound.
Don't mince or cut a garlic because raw garlic has strong flavor.
Gari (pickled ginger) is good for Japanese style carpaccio, instead of capers.
Recipe by : Garlic Jo's
White Fish Sashimi Carpaccio, Japanese Style Recipe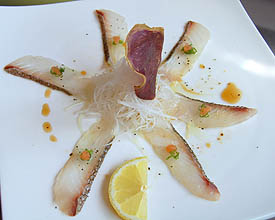 Ingredients (Serves 2)
6 slices white fish (red snapper, sea bass, flounder)
Olive oil as desired
Japanese ponzu shoyu, as desired
Salt and pepper, as desired
Momiji oroshi (grated daikon and chili), as desired
Chives, as desired
One pinch of Tsuma (Japanese radish shredded)
1 slice lemon
1 slice purple yum
---
Cooking Directions
Put tsuma in a center of a plate, and place white fish around the tsuma.
Pour olive oil and ponzu shoyu, and sprinkle a pinch of salt and pepper.
Sprinkle with minced chives and momiji oroshi.
Garnish with a lemon and a fried purple yum.
Tips
Stead of white fish, octopus is good for this dish.
Rock salt is better.
Recipe by : Azuki Sushi
Aji (mackerel) Sashimi Donburi (rice bowl) Recipe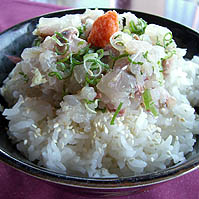 Ingredients (Serves 1)
Half aji (mackerel) for sashimi
1 clove garlic
1 clove ginger
Sliced green onion, as desired
White sesame, as desired
Ponzu sauce, as desired
1 serving of cooked rice
---
Cooking Directions
Fillet an aji and remove the bones.
Mince the aji with garlic and ginger.
Add green onion and white sesame and mix.
Serve [3] on top for rice.
Pour ponzu sauce.
Recipe and photo by: EN Sushi
Lomi Lomi Salmon Recipe (Marinated Sashimi Salmon)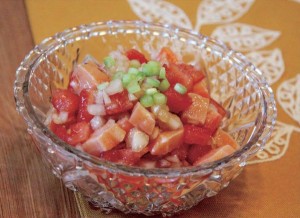 Ingredients (Serves 2-3)
3-1/2 oz. bar of sashimi-grade salmon
1/4 onion
1/2 tomato
1 Tbsp. olive oil
1 tsp. shoyu (soy sauce)
Lemon juice to taste
Green onion, chopped (as desired)
---
Cooking Directions
Dice the salmon into cubes of about 1/2 inch. Peel the tomato and remove the seeds. Dice the tomato into cubes of about 1/2 inch. Chop the onion and place it in water.
Squeeze the excess moisture from the onion. Mix all the ingredients in a bowl.
Place the mixture in a serving dish. Top with chopped green onion.
Recipe and photo by: Gochiso Magazine, Nijiya Market
Bonito Meshi (Bonito Rice) Recipe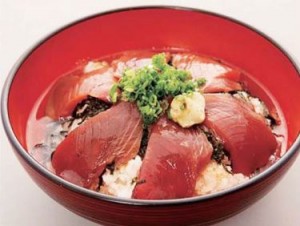 Ingredients (Serves 1)
2 oz. sliced raw bonito
1 tsp. white sesame seeds
100 ml dark soy sauce
80 ml genmaicha (green tea with roasted rice)
3 oz. cooked white rice
---
Cooking Directions
Thinly cut the raw bonito into 10g (0.4 oz.) slices.
Semi-grind the roasted white sesame seeds in a mortar and add the dark soy sauce.
Marinate 1) in 2) for twenty minutes.
Place 3) on top of a bowl of cooked white rice, and pour genmaicha over the contents.
* Seaweed, green shiso (Japanese basil), wasabi (Japanese horseradish), arare (roasted mochi pieces), etc. make good condiments for this dish.
It is said that bonito meshi originated at sea with bonito fishermen. After eating freshly caught raw bonito, they put leftover slices of the fish on top of cooked rice and poured hot tea into the bowl.
Recipe and photo by: Gochiso Magazine, Nijiya Market
Please follow and like us: