Japanese-People Approved Top Sushi Restaurants in America.
There are over 16,000 restaurants outside of Japan to roughly about 45,000 sushi restaurants in Japan. Of the 16,000, there are a little under 4,000 restaurants here in the United States. Believe it or not, sushi is a 2.2 billion dollar industry in the United States, and has been steadily growing since the first sushi boom back in the 1980's. Back in the 1990's, Ventura Blvd in the San Fernando Valley was called Sushi Boulevard, with 200 sushi restaurants lined up on that street alone. However, most have closed now and other restaurants have popped up all across Los Angeles and other cities around the United States. In more recent days, non-Japanese chefs have also entered the booming sushi market, while Chinese, Korean, and Thai owners have begun popping up more modern sushi restaurants emphasizing creative sushi rolls.
Unlike before, finding a real authentic sushi restaurant has become much more difficult, despite the fact that a number of sushi restaurants have grown exponentially over the years. Here we will take a look at some of the best sushi restaurants in the United States, that even Japanese natives agree to be authentic and delicious. We will also introduce some good but reasonably priced sushi restaurants in major cities as well.
What's important to note here is that we are talking about authenticity. While spicy tuna rolls and creative dragon rolls are a delicacy born in the United States, we will focus mainly on the quality of their sashimi and nigiri sushi, and less so on creative rolls. Due to this, the budgets at these restaurants will be higher than your average sushi restaurant, but these will be great places to experience authentic Japanese sushi.
12/12/2016 updated: 5 restaurants have been added to this list (Sushi On Jones / Uchi / Naoe Miami / O Ya / ARAMI)
---
1. Sushi Nakazawa
New York
If you live in New York, you must have heard of Sushi Nakazawa. Praised by celebrity chefs around the country and receiving numerous awards and coverage from various media outlet, it is the restaurant owned and headed by the omakase specialist, Chef Daisuke Nakazawa. With a clean, modern interior that blends in with the Manhattan atmosphere, Sushi Nakazawa serves truly authentic Edomae sushi. Carefully selected fish from both domestic and international waters are artistically prepared to maximize its taste, you'll definitely enjoy the best of best being prepared to you, one by one.
Recommended Menu Items:
Omakase is all they will serve. Chef Nakazawa does not make sashimi, for his passion is sushi. You'll want to sit at the bar, where you can interact with the chef and watch the masterfully crafted sushi. Interestingly, the omakase at the sushi counter is priced at $150 per person versus omakase at the table that is priced at $120 per person. One downside is that they only take parties of two if you plan on sitting at the counter.
2. Sushi On Jones
New York
It's one of the coolest sushi bars on this list…. probably in all of America. They have all the elements of cool: It's in New York City, it's in the East Village, it only has 4 seats and it's the first outdoor restaurant of its kind. Add that you have a time limit of 30 minutes to consume the 12 pieces omakase sushi, and you can understand why this place is unique. But what about quality, you ask? Chef David Bouhadana (former Sushi Dojo) plans his year around fresh fish and beef. Yes, quickly seared wagyu beef is on their omakase. It is sort of like famous Sukiyabashi Jiro in Tokyo, but way more accessible and fun, not to mention reasonably priced at $50.
Recommended Menu Items:
$50 omakase only.
You may add uni/wagyu hand roll for $12.
B.Y.O.B.
3. O Ya
New YorkBoston
You are in it for a treat! Chefs Tim and Nancy Cushman created a sushi restaurant that perfectly balances the creative with the traditional. You'll find magical bites such as: shiitake mushroom nigiri with truffle and honey, foie gras nigiri with balsamic chocolate kabayaki sauce (think of it as a grown up version of eel sauce), and the most photogenic of all, the negihama roll. Each dish, whether it's nigiri, sashimi or an entree, is labor intensive; you'll be pleasantly surprised there are so many layers of flavor to discover in each bite.
Recommended Menu Items:
You can go grand with Grand Omakase for $285 with an additional $150 for beverage pairing. If that's too much to commit to, there is plenty of sushi on the menu to choose from.
If you love salmon, go with Ora King Salmon Belly with cilantro, ginger and a hot sesame oil drizzle. There are also plenty of vegetable sushi and wagyu dishes to choose from.
4. Naoe
Miami
Naoe is located on a beautiful island of Brickell Key in the center of Miami, surrounded by blue ocean and a warm sea breeze. But that's as Miami as Naoe gets, Chef Kevin Cory created this serene space to bring all of his learning from his uncle and mentor, Yasushi Naoe to the Magic City. Not only will this be one of the best meals you've ever had, (so many accolades to mention, 5 Star rating from Forbes Travel Guides, an almost perfect score on Zagat), but with only 8 seatings available per service, you'll have the undivided attention of Chef and his staff. No detail is overlooked. Both soy sauce and sake are made in small batches at his family's artisanal shops in Japan.
Recommended Menu Items:
Omakase only ($200). It starts with the chef's selection bento box and leads to a variety of superbly prepared sushi and unique dishes. They'll take note of everything you have to ensure that there's no repeat next time you visit. Now that's service!
5. ARAMI
Chicago
Chicagoans rejoiced twice in 2016: the Cubs won World Series, and Arami came back from a temporary closing due to a kitchen fire. Arami is the rare Japanese restaurant that offers a wide ranging menu, yet somehow, expertly maintains the quality of their food. There are sushi, ramen and even robata (charcoal) grilled items on the menu. Their sushi is prepared in the traditional style for the most part, but you'll taste the chefs' creativity within the small details like the sweet potato in the salmon hotate sashimi, or that hint of lime in the yellowtail, salmon and tuna roll.
Recommended Menu Items:
We recommend ordering one thing from each category to explore. You can start with hamachi truffle to whet your appetite, then add a couple of your favorite rolls and some robata. Shishito is always a good idea and so is tsukune (chicken meatballs) with their original spiced tare.
6. Uchi
Texas
Decent sushi in Texas? Yes! Chef Tyson Cole's quasi-authentic Japanese restaurant changes its menu daily depending on what's available at the fish market, as well as which seafood has been flown in from Tsukiji market. There are omakase and plenty of a la carte dishes to share. Make sure you make reservations ahead of time, as the cool decor and fresh sushi makes Uchi one of the most desirable restaurants in Austin. There is a sister restaurant Uchiko, which serves great sushi as well, but with a stronger emphasis on small dishes.
Recommended Menu Items:
Get Gyumaki, grilled wagyu beef, kimchi and thai basil roll. It'll impress your palate as well as your date. Also, make sure you ask about the special of the day, as the sushi menu changes daily. Whatever you do, don't ask for a California roll. It's not on the menu.
7. Tomo Japanese Restaurant
Atlanta
Owner Chef Tomohiro Naito has seen it all. Born in Osaka, Japan, he was actually interested in theatre more so than sushi. While studying in New York, he worked at Japanese, French, and Italian Restaurants and fell in love with food, making his way up in the culinary world. His knowledge of contemporary Japanese cuisine led him to a chef position at the famed Nobu Restaurant in Las Vegas as a sushi chef. Since then, he has moved to Atlanta to open his own restaurant, TOMO where he has continued to impressed food critics.
Recommended Menu Items (aside from the Omakase):
Kobe Ribeye
Not many places will serve real Kobe-gyu (not Kobe-style, but actually imported from Japan). The ribeye (8 to 10 oz) is prepared simply, with pepper and pink salt so that you can taste the richness of the Japanese treasured beef. We recommend asking for fresh wasabi (hon-wasabi). (Price: $90)
Usuzukuri
He creates a beautiful thinly sliced fluke (flounder), into a delicious enjoyable dish. Unlike a normal usuzukuri, he serves it with cilantro, for added kick, spicy sauce and ponzu jelly, which is as good and entertaining as it looks. (Price: $14)
Lobster A La Musso
I told you he has vast knowledge in Western cuisine. Tomo brilliantly combines live lobster with uni, garlic, ginger, and scallions along with white-truffle, olive & sesame oil, and yuzu ponzu to create a Japanese-Western delicacy. (Price: $26)
8. Sushi Zo
Los AngelesNew York
Their theme being "Ittai-kan" (balance, unity), Sushi Zo aims to provide the best balance between the neta (the item that goes on top of the rice) , shari (the sushi rice), atmosphere, and time spent at the restaurant. After all, sushi is the uniting of the neta and shari. Sushi Zo, since opening its first restaurant in West Los Angeles in 2006, have become acclaimed as one of the best, and quickly opened its second restaurant in Downtown Los Angeles in 2013 and recently in New York. Learning sushi in Osaka, Japan (Kansai region), owner Keizo Seki has 40 years of combined experience in the sushi world, and has put all his knowledge and experience into each piece. Here at Sushi Zo, omakase is all they serve, and asking customers to trust them to deliver a professional and delicious meal that was even selected for the famous Michelin Guide.
Recommended Menu Items:
Omakase, Omakase, Omakase
As the word literally means, "Give me what you recommend", that's all that they will serve at this exclusive restaurant: no menus, no gimmicks, and no requests accepted. Just sit at the bar and chat with the chef if you'd like, but trust him, and let the meal be served. (Price: $145~ per person)
9. Shunji Japanese Cuisine
Los Angeles
Picked up as one of Jonathan Gold's best 101 restaurants, Shunji Japanese Restaurants have served top quality sushi in the LA area since leaving the head chef position at the famous Matsuhisa back in 2011. Chef Shunji Nakao's dishes are not the ordinary sushi you expect. Highly reviewed by Jonathan Gold, LA Times, and other various food critics and press, they all seem to have one thing in common – a (pleasant) surprise. He takes vegetables, tofu, and fish eggs to a new level of gastronomy, and makes regular sushi look like an appetizer. No doubt, the sushi is delicious, but you'll get much more than a toro placed on top of vinegar rice, and you will surely enjoy it.
Recommended Menu Items:
Although your meal will most likely be an omakase, and many of the dishes change from day to day, some of the items that have been served in the past includes: red snapper noodles with yuba, uni, and truffle; spaghetti squash dengaku with crab, shrimp and white asparagus; agedashi momotaro tomato tofu and more.
10. Sushi Gen
Los Angeles
Sushi Gen in the heart of Little Tokyo, Downtown Los Angeles has been around for a while. The line outside of Sushi Gen, has been around for a long time as well. Before all the food critics and media caught on to Sushi Gen, it was already popular, with locals and visitors from Japan waiting anxiously to get inside. They are unique, in a sense that it's not one of those modernized Edomae-style sushi that is so bent on authenticity. Here, you'll see non-Japanese chefs trying hard to pronounce "Irasshaimase". Yet, everyone is serious, sincere, and above all they know their sushi quite well. Their secret is their history. They know the people at the fish markets for they have been around since 1980. They can get you the freshest, at a pretty reasonable price, compared to the new-comers charging $150 per omakase. Here, you'll be able to enjoy big fat pieces of toro, melt-in-your-mouth yellowtail and more. Just be prepared to wait, if you go without a reservation.
Recommended Menu Items:
Sashimi Delux
They get the fish fresh. You can very much enjoy a complete meal with a plate of sashimi and a glass of sake. The slices are huge and you'll definitely enjoy every piece of it. (Price: $30~ )
Uni Dinner
If you love uni (sea urchin), this will definitely shock you. When you order the uni dinner, you get uni; a full plate of it. (Price $39)
11. Kusakabe
San Francisco
Owner-Chef Mitsunori Kusakabe, often called Nori, opened his first restaurant in San Francisco back in 2014. Being born in Kyoto, the ancient capital of Japan, he has gained a lot of culinary influence from kaiseki (formal Japanese course meal). He worked at many other Japanese restaurants all over Japan, gaining knowledge about sushi and other Japanese traditional dishes, and worked at Nobu New York and Nobu Miami Beach as a chef, and became the executive chef at the Michelin Star rated Sushi Ran in San Francisco. Since going independent, Nori has focused his restaurant on the traditional Edomae-sushi and also the art of kaiseki dishes.
Recommended Menu Items:
Kusakabe does serve a la carte menu items, but only after the omakase kaiseki course has been served. The omakase kaiseki include a starter sushi, sashimi, appetizer, soup and finale sushi. The omakase has a fixed price of $95 per person, with an option of taking advantage of a wine or sake pairing for $85 more.
12. Maruya
San Francisco
Maruya is one of the first sushi restaurants to open in San Francisco bringing the very traditional Edomae-style sushi. Maruya is not just delicious, but also has a very decorative atmosphere. With modern wooden interior, you'll find handcrafted wooden counters and walnut tables. Master sushi chef Akifusa Tonai, with over 40 year experience in the art of making sushi, will prepare the fish to bring out the most flavor and texture of the neta.
Recommended Menu Items:
Maruya Omakase – includes an amuse, kobachi appetizer, sushi and soup (Price: $95 per person)
Otsukuri Omakase – includes an amuse, kobachi appetizer, sashimi and soup (Price: $95 per person)
Chef's Omakase – combination of kaiseki-style dinner of sushi sashimi and appetizers (Price: $150 per person)
13. Sushi Tadokoro
San Diego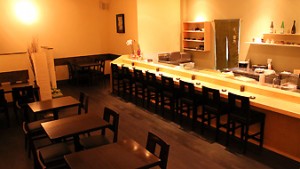 Opened in 2012, Sushi Tadokoro has quickly become the top sushi restaurants not just in San Diego, but in the United States. Owner Chef Tadokoro-san worked and studied sushi at various restaurants, and going independent in 2012. Since then, his passion in Edomae-style sushi and the use of the very rare San Diego seafood has put him in the sushi spotlight. Reasonably priced and prepared beyond perfection, Sushi Tadokoro should definitely be on your checklist. It has rightfully received a spot in the top 21 sushi restaurants in the United States by timeout.com. Order the a la carte or the omakase at this hidden gem.
Recommended Menu Items:
Omakase
If you have the chance to sit at the sushi bar, go for the omakase, which starts at $80. The sushi will be prepared piece by piece just for you. Their Amaebi (Sweet Shrimp) and Uni (Sea Urchin) are caught locally when available, and other fish fly to the restaurant directly from Japan. San Diego is not very well known, but produces one of the world's best Uni and Amaebi! ($80~)
14. Sushi Ota
San Diego
Sushi Ota, for the last 25 years, has shaped the sushi culture in San Diego. Chef Ota, born in Kumamoto prefecture of Kyushu, Japan learned sushi in Kobe, Osaka, and Tokyo. He came to San Diego in 1982 and fell in love with the great seafood selection from local seas and opened his own restaurant in 1990. Since 1990, Sushi Ota has been acclaimed the top sushi restaurant in San Diego, and most of the United States. For more information on Sushi Ota, click HERE.
Recommended Menu Items:
Omakase
He's the chef, he knows what's best, let him decide. That's the beauty of omakase and it's the best way to find out how good the restaurant really is. Ranked number 1 on our list, he's under a lot of pressure, but trust me, you'll love every single piece of it, and even some interesting appetizers he provides in between sushi.
Sea Urchin Sashimi
If you are in San Diego, you have to try the uni. While you are most likely going to get uni nigiri in your omakase, if you are a uni lover, have it as sashimi as well. Chef Ota calls it the best uni in the world, and that includes Japanese uni. (Price: $25)
15. Shiro's Sushi
Seattle
Shiro's is Seattle's popular Edomae-style sushi restaurant located just blocks from the famous Space Needle in Seattle, Washington. Finding similarity between the Tokyo (Edo) bay and Seattle Bay, Chef Shiro Kashiba opened this sushi restaurant in 1994 to introduce and reinvent Edomae-style sushi to Seattle. Since then, he has created a team of top culinary chefs, headed by Chef Jun Takai. His team's vast experience in working at famous sushi restaurants all over Japan recreate the traditional art of Edomae-style sushi, using local fish and seasonal ingredients. With various awards and recognition from top food critics and sites such as Zagat, Eater.com, Foursquare, Seattle Times and the list goes on, Shiro's is definitely the top choice for sushi in Washington. Picked up by various Japanese tourist guide books, this is selected as one of the top go-to places for Japan-quality sushi.
Recommended Menu Items:
Shiro's Open Ended Omakase (at the sushi counter only)
If you cannot get a seat at the counter, no worries. Shiro's has a premium omakase for table guests which runs at $75 per person. If you do get to sit at the sushi counter (and if possible, in front of Chef Jun), order the omakase, and let him take you on a journey to Seattle-mae (taken from Edomae) Style Sushi. (Price: MP, you tell him when to stop)
Fresh Oysters
When in Seattle… well, just eat a lot of oysters. Seattle is a huge spot for oysters, with various types of Seattle oysters being bought by restaurants all over the United States. (Price: $15 for half-dozen half shell)
Geoduck Butter (Sautéed Mirugai)
If you love clams, you will love mirugai (geoduck). I am sure you'll be ordering mirugai sushi, but why not try their special geoduck butter (sautéed with butter, shiitake mushrooms and asparagus) – sweet, soft and orgasmic. (Price: $9.50, from the price, you'll be able to share with two people at most).
Casual Sushi Dining with Great Quality
Sushi, in most part will cost you anything between $35 up to $300 per person. But there has been more and more "casual" sushi dining spots opening up that offers great quality sushi at reasonable prices. Here are a few that you should definitely try.
Kula Revolving Sushi Bar
CaliforniaTexas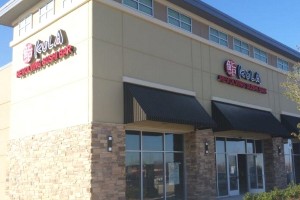 With over 360 locations in Japan and 12 locations here in the United States, KULA is one of the most famous revolving sushi bars in the world. Using organic rice and vegetables, in-house-made sauces, and the freshest fish, you won't believe that everything revolving on the belt conveyor is $2.25 a plate. Yes, even Toro! Enjoyable touch panel screens and games, it's great place for adults and families to enjoy! For more information on Kula Revolving Sushi Bar, click HERE.
Recommended Menu Items:
Event Items
Every now and then, KULA will have special events featuring special fish from Japan. During this limited time, customers can enjoy special tuna and other fish that is normally not available in the United States. The best part of it, they are all $2.25!
Tonkotsu Ramen
Unfortunately, the ramen doesn't circle around on the belt, but you can still order them and will be made to order. The newly remodeled stores will have express lanes that will shoot your order directly from the kitchen to your table! ($5.80)
Japanese Poke
Their newest addition to their side menu and different types of bowls are available for order. Japanese poke is a great twist on Hawaiian influenced tuna sashimi bowls that are delicious! ($5.80)
Gatten Sushi
Los Angeles
Gatten Sushi is also a revolving sushi bar that originated in Japan. With four locations in Southern California, Gatten Sushi has become one of the most popular places for casual sushi. Unlike KULA their prices aren't fixed, but sushi prices still range from $2.25 to $6.25 per plate. Gatten Sushi has various sushi options and also has a wide variety of appetizer dishes.
Recommended Menu Items:
Oyster Shooters
While quantity is limited, they have great oyster shooters for those who order before it gets sold out. They also have fresh oysters available as well. (Price: $3.95)
Takoyaki
If you love Japanese food, you must have tried takoyaki. Little balls with diced octopus is a delicacy! (Price: $3.25)
Black Pepper Tuna Sashimi
Tuna tataki, or seared tuna is a great appetizer. Enjoy it with soy sauce or ponzu. ($5.25)
Genki Sushi
Los AngelesSeattleHawaii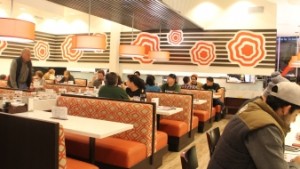 Genki Sushi was founded in Japan by Fumio Saito, and he is considered one of the founding fathers of kaiten sushi (revolving sushi) in Japan. Since the first store opening in 1968, the concept of revolving sushi bars spread across Japan. Genki Sushi has multiple locations in Hawaii, two in Washington, and one in Southern California and all offer great sushi at a reasonable cost.
Recommended Menu Items:
Menu will vary depending on the location, see website for more details.
Sushi Boy
Los Angeles
Sushi Boy has successfully marketed sushi as a casual fast-food. With 6 locations across Southern California, Sushi Boy serves quick take-out lunch and dinner meals with rolls and sushi. Sushi Boy is a great place to go if you want to bring sushi to your parties. They provide various party platters and you can always customize a catering platter with your favorite rolls, Japanese sides, and sushi.
Recommended Menu Items:
3 Item Combo
Choose three of your favorite sides to make it into a combination platter. Choose dishes like tempura, California rolls, chicken teriyaki, chicken karaage and more. It comes with rice, salad and miso soup. (Price: $10.95)
Hot Udon/Sushi Combo
Want both noodle and sushi? This combo comes with two pieces of sushi, 4 pieces of cut California roll, and a kitsune udon! (Price: $9.95)
Samurai Party Platter
Whether for sharing in a larger group, or for dinner for two, this platter contains all of your favorites. With 2 pieces of tuna, shrimp, salmon, scallop, eel, seasonal fish, masago, ikura, and 8 pieces of California roll and 8 pieces of spicy tuna, it's a real deal. (Price: $33.55)
 
*All prices, numbers and menu descriptions mentioned in the article are from the time of this article's publishing. So keep in mind, they may have changed since then.
Please follow and like us: