Contents:
What is Izakaya Style?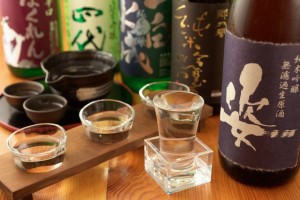 Remember those travel food shows where the host visits a tiny alley somewhere in Tokyo, and sits next to a middle aged Japanese salary-man who definitely has had more than a couple of drinks who then proceeds to happily recommend menu items in broken English to the host? Of course, the host feels obliged and orders, only to result in both having a great time bonding over sake and yakitori. The show usually ends with a pithy comment from the host along the lines of, "Drinking: the international language!" That is an Izakaya.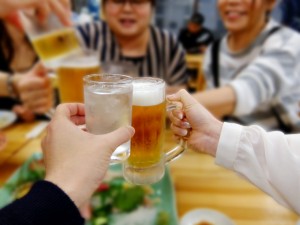 So what is an Izakaya style restaurant in America? By broad definition, Izakaya style restaurants are Japanese places to drink alcohol and to eat bar food. But doesn't every restaurant serve alcohol and food? Yes, but what makes an "Izakaya" different is that the menu is designed around alcoholic beverages, so that the food enhances the experience of drinking beer, sake, shochu, or cocktails. In Japan, Izakayas are frequented by company salary-men and "office-ladies" to blow off some steam after work. Because many Izakayas serve small dishes, the Izakaya is often compared to gastropubs, tapas places, and taverns.
Although there are historical examples of places similar to the Izakaya dating back over a thousand years, the Izakaya became a popular concept during the Edo period (1603~1868) in Japan, when sake brewers started to serve sake "by the cup" along with food at their storefronts. This style was a hit with young men of different classes, whether royalty, samurai, merchant or farmer. To have a place where you can have a quick drink and a meal was considered a convenience and was a great place to socialize. Nowadays, the Izakaya's definition is somewhat blurred, and has turned into a place anybody can go to enjoy a good meal with or without drinks. Many of the American Izakayas have adopted the latter definition, allowing patrons to experience "Japan" for a few hours.
10 Best Izakaya Style Restaurants in the U.S.
1. Sake Bar Shigure
New York
Upon entering Shigure, you'll be greeted by a wall full of sake and shochu bottles that line the shelves like the important books that you were told not to touch when you were little. At Shigure, every bottle looks important and intimidating, because most of the labels are in Japanese. There are 50 Japanese sake selections, along with 25 kinds of shochu and awamori, 15 types of Japanese whiskey and nearly 20 Japanese beers available. The food is as discerning as the alcohol. Their karaage chicken is marinated in shio-koji, so it's tender and juicy. This is not the place for a loud party, but rather, to experience some grown up drinking time.
What to order:
If you haven't had shochu before, this is definitely the place for your first sip. As for food, most order karaage, and avocado potato salad with onsen tamago; it's not your typical picnic potato salad. The duck chashu is also beautifully prepared.
2. Pabu Boston
Boston
If every chef can do what Michale Mina does, there would be no bad restaurants. Every restaurant he puts his name on is magic. Pabu is no exception. Partnered with Chef Ken Tominaga, the chef and owner of Hana Restaurant in Sonoma County and a leading Japanese food authority of Northern California, Pabu serves everything from omakase sushi to yakitori to wagyu steak. Pabu is a Japanese modern izakaya style restaurant with an upgraded menu. Start with "Happy Spoon," and you'll be happy you did, as this perfect bite includes uni, ikura, tobiko, ponzu and creme fraiche. But what does all that have to do with the name "Pabu?" Pabu is a Japanese pronunciation of "public house."
What to order:
There is something for everybody at Pabu. Want great sushi rolls? Ken's roll with shrimp tempura and spicy tuna or Michael's roll with bluefin fatty tuna, uni and ikura are both great. Prefer something cooked and easy? Order a tasting of robata, which comes with an assortment of yakitori, meat and vegetable on sticks, grilled over charcoal. Because it's in Boston, there's also a hot pot dish with lobster!
3. Momotaro
Chicago
One step into this chic restaurant and you are transported to a contemporary izakaya in Tokyo. The open kitchen in the middle is lively and sends out delicious sushi and grilled robata dishes. Momotaro in Chicago serves a beautiful modern Japanese menu that perfectly matches the interior. Start your meal with Momotaro tartar, which is not beef but made with Japanese sweet tomato. Then order some grilled wagyu beef from the robata bar, or raw beef wrapped uni. If you are looking for something straight out of a sushi text book, you'll have a hard time finding it here, because every nigiri sushi is dressed with a twist. For example, negitoro, a simple toro and scallion sushi comes with akami and julienned wasabi.
What to order:
Uni chorizo toast with pickled celery was selected as one of the best dishes of 2016 by Chicago Magazine. Sizzling scallop onigiri comes dressed with chili mentaiko, katsuobushi and liquid shio koji. They limit this dish to 6 servings per night.
4. Kemuri Tatsu-ya
Texas
The team behind the ever-so-popular Ramen Tatsu-ya came up with this Austin meets Japan eating experience…this time it's izakaya style. Kemuri serves smoked fish and meats (try their fall-off-the-bone brisket and succulent duck), chili cheese takoyaki, sticky rice tamale, along with more traditional classic karaage chicken and yakitori. There is, of course a sashimi of the day, but they also have a BBQ boat, which features a smoked meat special. While it lacks the traditional Japanese atmosphere, Kemuri still rocks a fun underground downtown Tokyo vibe. Kemuri means "smoke" in Japanese.
What to order:
Definitely some smoked meat, and "Hot Pocketz" of gouda and brisket. Yakitori are grilled to perfection on binchotan; crispy on the outside, juicy in the inside! Because you are at Tatsu-ya, you can't leave without beef broth and brisket Texas Ramen!
5. Raku
Las Vegas
There weren't many destination restaurants outside of the Strip before Raku. Raku made a 15 minute cab ride a cool thing to do. Raku also put Izakaya, Japanese pub style dining, on the map as well. Visitors and locals come to Raku seeking more than just sushi to please their palate. They make their own tofu and serve it with yakumi (condiments), a very popular way to eat tofu in Japan. There is also a robata grilling station where your grilled King crab leg will never taste better. While you are in the area, check out Raku Sweets for the 3-course dessert menu.
What to order:
Anything from the robata menu, but make sure the order includes Tsukune, ground chicken served with a side of poached egg for dipping. Foie gras don (over rice) is also a popular dish.
6. Kochi
Los Angeles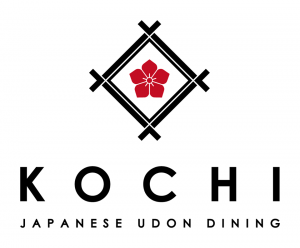 Just a block away from the Beverly Center, tucked into a cozy space on La Cienega, sits Kochi, where lunchtime guests can feast on udon during the day, while diners who visit later in the evening can experience something different at the "Udon Izakaya." During dinner, you can start with edamame and/or fried calamari, and finish with one of Kochi's signature udon dishes, such as creamy uni and rich mentaiko caviar. Kochi's udon noodles are custom made, so they are bouncy and chewy. Finishing a meal with noodles and rice is a typical izakaya experience, so why not finish with one of the best udon in the city?
What to order:
Edamame and Otsumami Cucumber makes for a great light way to start. Go for black cod, which has a little bit of sweetness from miso marination and a charred outside of cod; it's intoxicating. But whatever you do, save some room for the udon noodles!
7. Kinjiro
Los Angeles
Tucked in a strip mall in the Little Tokyo section of Los Angeles, Kinjiro features a modern izakaya menu. Given the high concentration of Japanese people, Southern California offers many good izakaya restaurants. But what makes Kinjiro better than the others? Quality and a unique menu. While many izakayas put an importance on variety, Kinjiro focuses on a small high quality menu. Their tofu is homemade and served with a chilled dashi. There is also duck, foie gras, bone marrow and beef tendon. Their menu is identical to none.
What to order:
Cant get enough of bone marrow? Try Bone Marrow Dengaku grilled with a special sweet and savory miso which is something completely different and goes well with dry sake. Grilled Thick-cut Prime Beef Tongue with sea salt also seems to be a crowd pleaser.
8. Izakaya Rintaro
San Francisco
By default, the izakaya menu is full of variety on which one can usually find sashimi, yakitori, noodle and rice dishes, and usually some sort of house specialty. Izakaya Rintaro does the same, but in an artisanal way. First, their fresh tofu is house made which results in a silky and light texture. With condiments, bonito flakes and grated ginger, the tofu is a refreshing way to start your meal. Their house specialty is "hotate no shumai" which is dumplings made from scratch using scallops and pork. Kabocha korokke is a potato and Japanese pumpkin croquette with a curry flavor, breaded with panko then deep fried. It's one of their signature dishes.
What to order:
"Shime" is a useful Japanese word that definitely comes in handy when dining at an izakaya. It means 'a final dish to complete the meal,' and usually is some kind of rice or noodle dish. Rintaro hand-rolls their udon noodles and a few delicious udon dishes for warm shime. Their menu changes frequently.
9. Suika Seattle
Seattle
Popular Vancouver based restaurant group opened Suika in Seattle in 2014 to update its izakaya scene. Since then, people in Seattle are enjoying well crafted cocktails and hearty dishes like made from scratch oxtail ramen, beef ribs and party favorites like uni shooters and tasty chicken wings. Suika means watermelon in Japanese. Check out their special fresh watermelon drinks, suika gin tonic and suika mojito.
What to order:
check out chef's handwritten daily menu. That's what Japanese people are ordering from.
10. Tsukada Nojo Farmer's Kitchen Hawaii
Hawaii
A brand new izakaya in Oahu is the first overseas outpost of Tsukada Nojo, a popular izakaya chain in Japan. Since there are many Japanese people who reside and visit Hawaii, izakayas are plentiful in Hawaii. What makes Tsukada Nojo Farmer's Kitchen stand out from the rest is providing fresh ingredients. Many produce served at Tsukada Nojo is locally sourced from the Hawaiian islands to create a healthier alternative. To enjoy the fresh Hawaiian produce, Tsukada Nojo created many hot pot dishes (nabe). You can try them in traditional Sukiyaki style, or try one of the creative dishes such as lemon cilantro nabe.
What to order:
There are so many dishes on the menu. If you are a first timer at Tsukada Nojo, try one of the hot pots, along with a few small dishes like umami pickles, hamachi jalapeño and umami shichimi chicken wings.
 
*All prices, numbers and menu descriptions mentioned in the article are from the time of this article's publishing. So keep in mind, they may have changed since then.
 
10 Most Popular Izakaya Dishes
The variety of menu items at a modern Izakaya is almost overwhelming, considering how Izakaya culture began. Open any Izakaya menu and you're bound to find a sashimi appetizer, a sashimi dinner, ten different noodle dishes and in between, cold tofu, warm tofu or fried tofu in a broth. While it's hard to only pick ten, here are the ten most popular Izakaya dishes.
Edamame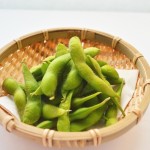 Almost always, you'll see people start with Edamame at an Izakaya– especially when it's in season. It's fun to eat Edamame just popping pieces from pods. Sometimes they are simply boiled in salt water, while other times, they are sautéed with garlic or spices. No matter how they are prepared, Edamame is a high protein healthy snack.
Sashimi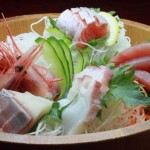 What is Sashimi? It's a slice of fresh raw fish prepared for you to eat. Think of Sashimi as sushi without rice. At an Izakaya, Sashimi is often listed on the menu as one of the "daily selections" and the plate will be served family style for the whole table. At higher-end Izakayas, the chefs skillfully prepare the best that the season has to offer.
Yakitori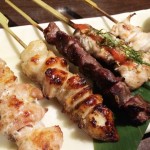 With Yakitori, a few bite size pieces of chicken meat are skewered onto a bamboo stick and grilled per order. Depending on the meat, Yakitori is often seasoned with sweet teriyaki like "tare," sea salt or some wasabi.
Agedashi Tofu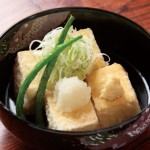 One of the most popular dishes, Agedashi Tofu is deep fried tofu, soaked in well-seasoned dashi broth. It's usually accompanied with a little bit of grated ginger, daikon and green onion. If chopsticks are difficult to use, there's no shame in asking for a spoon, as it'll make it easier to have a little bit of everything in one bite.
Karaage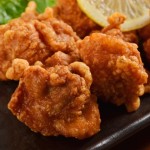 Hot, juicy and tasty, karaage is Japanese fried chicken that you'll undoubtedly love. Well seasoned with soy sauce, sake, and sometimes ginger and garlic, the chicken is cut into bite size pieces and dusted with potato starch then deep fried.
Dashimaki Tamago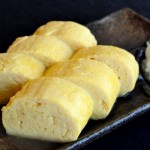 Dashimaki Tamago is a typical Japanese omelette. So what makes it different from other omelettes? Dashi in dashimaki means Japanese dashi stock, so a beaten egg is seasoned with dashi to give it a subtle savory and sweet taste. It is definitely a Japanese comfort food!
Yaki Udon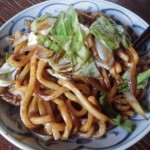 Typically, the udon you are familiar with comes in broth, but Yaki Udon is actually stir fried with vegetables and meat, and is seasoned with soy or tonkatsu sauce. It's easily duplicated at home, but so much tastier when an Izakaya restaurant prepares it.
Onirigi or Yaki-Onigiri
Onigiri is a rice ball; a simple Japanese staple dish. Cooked rice is made into a ball or triangle shape, and is then seasoned with a little bit of salt to enhance the sweetness of the rice. Something savory is usually stuffed in the middle, for example, grilled salmon, pickled plum or even tuna salad! Yaki-Onigiri is a grilled rice ball, which lets you enjoy the crunchy tasty outside along with the fluffy rice in the middle!
Okonomiyaki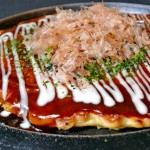 People call Okonomiyaki,"Japanese savory pancakes," or "Japanese Pizza." The comparison makes sense as It's round and there are toppings, but that's where the similarity ends. To make Okonomiyaki, a flour based batter with cabbage, meat, seafood, and sometimes kimchi or even cheese are grilled together. Sweet and savory tonkatsu sauce and mayonnaise are the typical condiments that come with it.
Korokke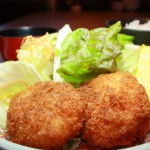 Korokke is a (potato) croquette. It's name comes from the way Croquette is pronounced in Japanese. In Korokke, mashed potatoes with grilled onions or ground beef are made into oval shapes, coated with panko, then deep fried. Think of these as French Fries for Japanese people, except, Korokke is not a side dish…Korokke is the main act!
*All prices, numbers and menu descriptions mentioned in the article are from the time of this article's publishing. So keep in mind, they may have changed since then.
Please follow and like us: