Contents
Sushi Eating Manners for your knowledge
Like how you begin from the outside to inside for French cuisine (in terms of silverware), there are table manners and steps on how to eat sushi correctly. But keep in mind these are manners, and generally speaking no one will be offended if these manners are not followed. In many of the cases, people in Japan aren't even aware of the some of the manners shown below. What is important is that you enjoy your sushi.
There are a wide variety of sushi neta, as is the case for sashimi, but they can mainly be divided into 7 types.
White Fish (白身, Shiromi)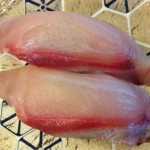 Hirame (Halibut), Tai/Madai (Snapper/Red Snapper), Hamachi/Buri (Young Yellowtail, Yellowtail), Kanpachi (Amberjack), and Sake (Salmon) is also placed as a white fish
Red Meat Fish (赤身, Akami)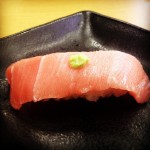 Maguro (Tuna), Toro (Fatty Tuna),  Katsuo (Bonito)
Silver Skin Fish (光り物, Hikarimono)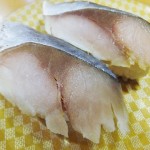 Saba (Mackerel), Aji (Spanish Mackerel), Kohada (Gizzard Shad), Sayori (Halfbeak), Sanma (Pike), Iwashi (Sardine)
Shell (貝, Kai)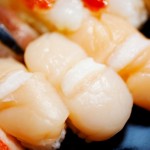 Mirugai (Geoduck), Aoyagi (Round Clam), Hotate (Scallop), Akagai (Arkshell), and Hokkigai (surfclam)
Squid/Octopus (イカ/タコ)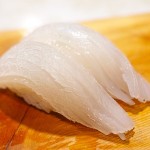 Ika (Squid) , Tako (Octopus)
Shellfish (エビ類, Ebirui)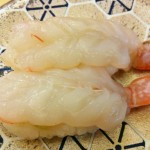 Ebi (Boiled/Steamed Shrimp), Amaebi (Sweet Shrimp), Ise-ebi (Lobster)
Fish Eggs (魚卵, Gyoran)
Ikura (Salmon Roe), Uni (Sea Urchin), Kazunoko (Herring Roe), Tobiko (Flying Fish Roe), Masago (Smelt Roe)
Of these types, sushi chefs prefer that you order from blander to stronger taste. This is because eating fish with stronger/oily flavor will ruin your palate. Thus, you will not be able to fully enjoy the lighter flavor.
Therefore, the ideal order will be to:
Step 1: Order sushi from white fish, ika/tako, and/or shell
Step 2: Order sushi from shellfish
Step 3: Order sushi from silver skin fish, fish eggs
Step 4: Order red meat fish (tuna first, then toro)
Step 5: Finish with tamagoyaki
TIP: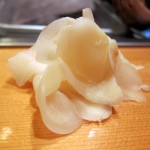 If you mess up on the order, or want to erase the taste of the previous sushi, use the given gari (pickled ginger). Simply eat the ginger in between to clear the taste in your mouth.
As mentioned before, no one is forced to order in such way, and in the United States, some sushi chefs will not follow the above order even if omakase is ordered. So next time you go to a sushi restaurant and order an omakase, see how much your sushi chef follows the "proper" order.
TIP: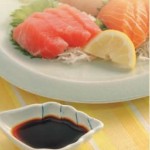 Sashimi also share the same order as above.
If you plan to make your dinner not just limited to Sushi, order unflavored appetizers (Such as steamed vegetables, edamame), sashimi, other cooked appetizers, sushi, rolls, and finish it with a soup. I know Westerners prefer their soups first, but in Japanese sushi, soups come at the very end.
Eating the Sushi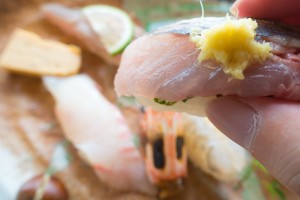 When a sushi chef places sushi on top of our platter, we tend to pick it up with our chopsticks, dab it into our mixture of soy sauce and wasabi, and bring it to our mouth. While there's nothing wrong with that, it is better to actually eat sushi with your fingers. Japanese restaurants will bring you a hot towel called oshibori when you sit down, and while you see many people using that to clean their faces, it's actually there to clean your hands. Especially when you eat sushi with your hands, your hand can get sticky. That is why the oshibori is there to clean your fingertips.
When dipping the sushi into soy sauce, DIP IT IN REVERSE SO THAT THE RICE DOES NOT TOUCH THE SOY SAUCE. Yes, very rarely done by even Japanese people, but when you dip the rice into the soy sauce, it absorbs too much of the soy sauce, and your sushi will get too salty. When bringing it to your mouth, also flip the sushi so that the fish portion lands on your tongue. You want the first taste that your tongue meets to be the fish and not the rice. Eating sushi like this, as you can imagine, is not easy with a chopsticks. That is why using fingers to bring the sushi into your mouth is a wise choice.
TIP:
With so much flipping going on, you're better off eating sushi in one bite. Some restaurants make the sushi bigger to make it look like a better bang for your buck, but real sushi should be nice and small, so that it is made to fit in your mouth in one bite.
The Sauce Etiquette 1 – No Wasabi Pool
Yes, wasabi should not be dumped  into your small pool of soy sauce. Wasabi is never meant to be placed in your sauce plate, nor mixed with soy sauce – ever. Wasabi – real wasabi – loses a lot of its scent and spice when mixed with liquid, and thus should not be placed in soy sauce. Instead, if you are going to need more wasabi, simply use your chopstick to place wasabi on top of the fish before dipping it into the soy sauce. However, most chefs will put enough wasabi between the neta and shari for you.
The Sauce Etiquette 2 – Ponzu plus Soy Sauce is a no-no
Some sushi will come with the sauce already placed. When you see scallion with the red daikon radish (momiji), do not bother dipping that sushi in soy sauce, because the chef has already put ponzu sauce on it. Ponzu and soy sauce is different, and as much as you love soy sauce, ponzu should be left alone to enjoy on its own. More recently, chefs have begun preparing sushi the more traditional way, where the chef will put various sauces or salt on the sushi before serving it. The best way is to always ask.
The Sauce Etiquette 3 – Battleship Sushi will not float
Gunkan maki, meaning the battleship sushi, is a sushi where the fillings fall apart and thus, nori seaweed is placed around the sushi to create a bowl. This is common for uni and ikura. As is the case with any other sushi, the soy sauce should not be dipped from the rice down. However, most likely, you won't be able to flip the gunkan maki because the neta is surely to fall out. What you should do is, pick up a piece of the gari (ginger) and dip that into the soy sauce and use it to brush the surface of the neta with soy sauce.
Sushi Dictionary to eavesdrop on the sushi chef's conversation
Agari – Hot green tea
Geta – The wooden platter on the counter where sushi is placed
Oaiso – Check (used to ask for your bill)
Gari – Pickled ginger (yellow for no food coloring, pink for food coloring)
Sabi – Wasabi (if you don't want wasabi, tell the chef, sabi-nuki)
Neta – (or Tane) the fish/meat that goes on the sushi
Shari –Sumeshi (vinegar rice)
Tsume – The eel Sauce that everyone loves
Murasaki – Soy sauce
Tsuma – The thinly sliced daikon radish that comes with your sashimi
Yama – Out of Stock (maguro yama, means maguro out of stock)
User Comments on Experience and Thoughts at Sushi Restaurants
"I've noticed that some sushi restaurants are now serving sushi burritos. I have yet to try one, but I think that is a great concept idea especially here in California. There are so many things that can be combined into a sushi burrito!" (Javi, Male 30's)
– A sushi roll in a sense is a burrito in itself, but I guess it's a little different because it is cut. I have yet to try one myself, but do they serve the sushi burrito in a tortilla?
"Raw horse meat sushi. Similar to beef, but just the thought. Actually, was not bad." (Rene, Male 50's)
– It's called basashi (ba is horse, and sashi comes from sashimi), and the concept of eating horse meat may be disturbing, but it is a delicacy in Japan. Although very rare here in the United States. Other "meat" sashimi includes "gyu-tataki" (beef tataki sashimi), tori-sashi (raw chicken sashimi), reba-sashi (raw liver sashimi). Of course all the above require super fresh meat, but if you can find places that serve them, it may be nice to try.
"WASABI UNDER THE TAMAGO IS NOT GOOD FOR CHILDREN'S FAVORITE" (Timothy, Male 50's)
– You are absolutely correct. While it would be nice for sushi chefs to realize who's eating the sushi that's being ordered, it's always better to let the chef know which ones to remove the wasabi from.
"I was surprised that at some sushi restaurants serve sushi that has been fried." (Elaine, Female 30's)
– Yes, believe it or not, fried sushi has made it on the fusion sushi list. Called  "Crispy Sushi," they will fry the shari and place neta on top of it, usually spicy tuna. While it's not one of my favorites, places that serve it them get pretty good review on yelp.
Editor's Comment: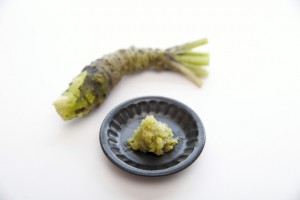 I will leave you with this final note. And this may be a downer to a lot of sushi fans, but about 80% of wasabi being used at sushi restaurants here in the United States isn't real wasabi. They are powder wasabi made from wasabi radish, which is different from hon-wasabi (real wasabi). Wasabi radish is closer to the horseradish, and they add artificial coloring and flavors to hide it. A real hon-wasabi will not have such a strong sting in your nose as the powder wasabi we are accustomed to. Rather, hon-wasabi will have a more minty scent. Hon-Wasabi can only be grown with places with really really clean water, a limited resource in Japan, and even more scarce here in the United States (Colorado, Oregon, and Washington, being few of the big places for hon-wasabi). A Japanese grown hon-wasabi goes on the market at around $100 to $150 per pound, whereas the American hon-wasabi is priced at nearly $70 to $100 per pound. A sushi dinner for two may use up to 2 ounces of wasabi, so you can imagine that using real wasabi can be very pricey. However, if you are spending about $150 per person and not getting hon-wasabi, you should rethink that restaurant.
Please follow and like us: